Allan Robinson Appointed to New Executive Role as FortisTCI Continues Company Restructuring
Providenciales, Turks and Caicos Islands (Tuesday, April 11, 2017) – FortisTCI (the Company) has announced a new role for Allan Robinson, as the Company steps up its restructuring programme to respond to changing market conditions, rapid organizational growth and an expanded service territory across the Turks and Caicos Islands. This new appointment took effect on March 1, 2017, along with the recently announced promotions of two Vice Presidents – Ruth Forbes and Devon Cox – to Senior Vice President roles.
In this latest round, Allan Robinson, former Vice President of Customer and Corporate Services, has been appointed as the new Vice President of Grand Turk and Sister Islands Operations. Mr. Robinson's new and expanded role provides stronger executive presence across the Company's service territory as he leads the independent operations in Grand Turk, Salt Cay, North & Middle Caicos and South Caicos.
Mr. Robinson has served FortisTCI as Vice President of Customer and Corporate Services since September 2007. His extensive experience in the utility industry began at Turks and Caicos Utility (TCU) in Grand Turk, where as a college graduate, he was first employed in the Distribution and Metering Department. After a three-year stint, he left TCU in 1989 to work with the Turks and Caicos Islands Government Planning Department Development Control Section in Grand Turk. In November 1995 he was transferred to Providenciales as Senior Officer with the Planning Department Building Control Section. A year later he began working with PPC Ltd. (now FortisTCI Limited) as Assistant Supervisor in the Metering Department. In 1999 he was promoted to Supervisor and managed the company's Meter Reading, Billing and Customer Services Department for all of PPC offices.
Mr. Robinson attended Antigua State College in Antigua, where he studied Electrical Engineering. He earned an Associate degree in Building and Electrical Technology from the University of Technology (formerly CAST), Kingston, Jamaica.
FortisTCI President and CEO Eddinton Powell stated, "We have embarked upon a comprehensive restructuring of our operations, with a strategic view on the future as we prepare the Company and its outstanding talent for a new era in the energy business. Allan has consistently demonstrated leadership growth and the capabilities and commitment to steer all Sister Island operations forward in line with the overall goals of FortisTCI. I am proud to congratulate him on this achievement and look forward to his continued success in this new role."
FortisTCI has been restructured into three main divisions: Corporate Services; Operations; and Innovation, Strategic Planning and Information, Communications, Technology (ICT). These have further been segmented into three main Operating Business Units (OBU's), namely Production and Project Management, Grand Turk and Sister Islands Operations, and Transmission and Distribution (T&D).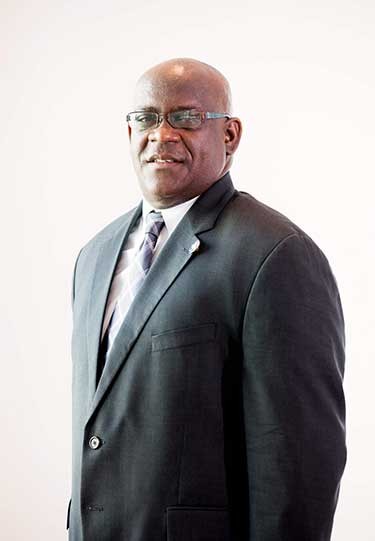 Allan Robinson, FortisTCI Vice President of Grand Turk and Sister Islands Operations

Notes to Editors:
1) FortisTCI Limited (FTCI) is a wholly owned subsidiary of Fortis Inc., and is the sole provider of electricity in Providenciales, North Caicos, Middle Caicos, South Caicos, East Caicos and adjacent Cays. In August 2012, Turks and Caicos Utility Limited (TCU), which is the sole provider of electricity on the Islands of Grand Turk and Salt Cay, was acquired by FTCI. Together the two companies serve more than 14,500 electricity customers in the Turks & Caicos Islands archipelago. FTCI and TCU have an aggregate diesel-fired generating capacity of approximately 82 megawatts. For additional information, visit www.fortistci.com
2) Fortis is a leader in the North American regulated electric and gas utility industry with assets of more than CAD$48billion. The Corporation's 8,000 employees serve customers at utility operations in five Canadian provinces, nine U.S. states and three Caribbean countries. Fortis shares are listed on the TSX and NYSE and trade under the symbol FTS.
Additional information can be accessed at www.fortisinc.com, www.sedar.com or www.sec.gov
CONTACT:
Talisha Simons
Director of Corporate Communications & Public Affairs
FortisTCI Ltd
Tel: 649-946-4313 Ext. 2519
Email: tsimons@fortistci.com