Providenciales, Turks and Caicos Islands (February 9, 2016) As world market prices for crude oil continue to fall, FortisTCI customers are receiving major savings passed on by the Company through monthly electricity bills. The fuel factor was at a peak in August 2014 at $0.2447 and has since declined 60% to $.0999 in December 2015. This new rate reflected on customers' January 2016 bills. With global fuel prices this low, there should be a relative decline in the cost of living throughout the Turks and Caicos Islands.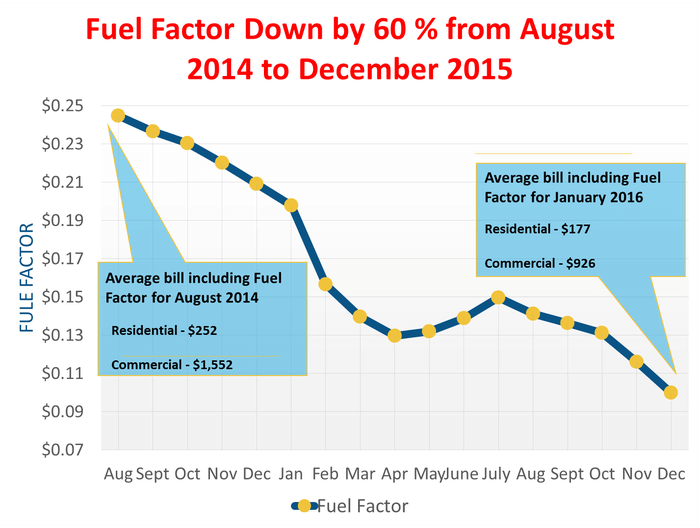 In mid-January crude oil prices are reported to have dropped to a 12 year low, trading below $35 a barrel. Considering the fuel factor (or power cost adjustment) is based on the world market price at the time purchased, FortisTCI customers may see further savings, depending on further declines in the world oil prices. The savings that customers are receiving is an indication that the present regulatory framework works to the benefit of all stakeholders. When fuel prices are
increasing, it allows the Company to recover sufficient cash-flows to pay for the necessary fuel to ensure the continuity of services. When fuel prices are declining, these savings are passed on immediately to the benefit of electricity customers.

When the fuel factor was at a peak in August 2014, average bills inclusive of the then fuel factor rate for residential customers in Providenciales was $252. That average dropped to $177 in January 2016. Average bills for commercial customers in Providenciales when the fuel factor was at a peak in August 2014 was $1,552. The average bill for commercial customers has declined to $926 in January 2016.

FortisTCI President and CEO, Mr. Eddinton Powell, said, "We are pleased that our customers are seeing reductions in their electricity bills. The calculations of the monthly Fuel Factor is verified independently by the Energy and Utilities Commissioner's Office, prior to implementation; thus ensuring that electricity customers' interest is protected. However, we constantly stress to our customers the importance of managing their energy consumption for long term power-costs savings." Mr. Powell added that "the volatilities of the world market make it difficult to predict future pricing, and while our customers can enjoy the benefits of lower electricity prices as of results of lower fuel prices, the Company continues to pursue other means of bringing potential savings to customers. For example, we commissioned and recently completed a study on ways in which to streamline the fuel supply chain to the Turks and Caicos Islands. We are actively investigating how the findings of the report can be implemented to the benefit of our customers."

In November 2015, FortisTCI launched its renewable energy programs CORE & UORE, now available to customers in Providenciales. The renewable energy programs will be extended to Grand Turk in 2016. These programs allow electricity consumers to sell electricity into the grid. The Company has set a target to avoid burning 19,000 barrels of oil in 2020 through the integration of rooftop Solar PV systems.

In addition, the Company offers free energy audits to residential customers. More information on this free program can be obtained from the Company's Customer Service Department.
Notes to Editors:
1) FortisTCI Limited (FTCI) is a wholly owned subsidiary of Fortis Inc., and is the sole provider of electricity in Providenciales, North Caicos, Middle Caicos, South Caicos, East Caicos and adjacent Cays. In August 2012, Turks and Caicos Utility Limited (TCU), which is the sole provider of electricity on the Islands of Grand Turk and Salt Cay, was acquired by FTCI. Together the two companies serve almost 14,000 electricity customers in the Turks & Caicos Islands archipelago. FTCI and TCU have an aggregate diesel-fired generating capacity of approximately 75 megawatts. For additional information, visit
www.fortistci.com
.
2) Fortis is a leader in the North American electric and gas utility business, with total assets of approximately $29 billion and fiscal 2014 revenue exceeding $5.4 billion. The Corporation's asset mix is approximately 96% regulated (70% electric, 26% gas), with the remaining 4% comprised of long term contracted hydroelectric generation operations. The Corporation's regulated utilities serve more than 3 million customers across Canada and in the United States and the Caribbean. For more information about Fortis, visit www.fortisinc.com or www.sedar.com
CONTACT:
Allan Robinson
VP, Customer & Corporate Services
FortisTCI Ltd
Tel: 649-946-4313 Ext. 2507
Email: arobinson@fortistci.com