CARILEC is an association of electric utilities, suppliers, manufactures and a variety of other stakeholders operating and representing the electricity industry within the Caribbean. There are currently 32 electric utilities and more than 80 suppliers and manufacturers registered with the association. For more information about CARILEC, log onto www.carilec.com.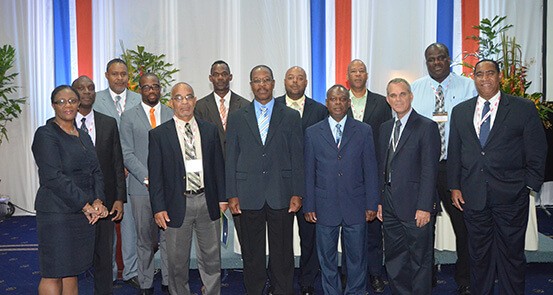 Mr. Powell said, "CARILEC plays a very important role in the continued development of the Caribbean. I look forward to representing the Fortis Group in my new capacity." An official induction ceremony is scheduled for late June.
Newly elected board as pictured (Back, left to right) : Andrew Thorington, Executive Director CARILEC; Leroy Abraham, BVI Electricity Corporation; Edmund Phillips, Wartsila Caribbean; William Brooks, St. Kitts Electricity Company Ltd.; Hugo Hodge, Virgin Islands Water and Power Authority; Trevor Louisy, St.Lucia Electricity Services Ltd.; Frizroy Haewood, Power Generation Company of Trinidad & Tobago. (Front, left to right): Alison Jean; Collin Cover, Dominica Electricity Services Ltd.; Thornely Myers, St. Vincent Electricity; Kevin Basden, Bahamas Electricity; Peter Williams Light & Power Holdings; Eddinton Powell, FortisTCI Ltd. (Not pictured): Thomas Hodge, Anguilla Electricity Company Ltd.; Courtney Mark, Trinidad and Tobago Electricity Commission; Walter Higgins, Bermuda Electric Light Company Ltd.
Notes to Editors:
1) FortisTCI Limited (FTCI) and Atlantic Equipment & Power Limited (AEP) became a wholly owned subsidiary of Fortis Inc. located in Newfoundland, Canada in August 2006. Turks and Caicos Utility Limited (TCU), which is the sole provider of electricity on the Islands of Grand Turk and Salt Cay, was acquired by FTCI in August 2012. FTIC is the sole provider of electricity in Providenciales, North Caicos, Middle Caicos, East Caicos and adjacent Cays. AEP is the sole provider of electricity on South Caicos. Together the three companies combined serve approximately 12,000 electricity customers in the Turks & Caicos Islands. The Utilities have an aggregate diesel-fired generating capacity of approximately 75 megawatts.
2) Fortis is the largest investor-owned distribution utility in Canada, with total assets of more than $15 billion and fiscal 2012 revenue totalling $3.7 billion. The Corporation serves more than 2 million gas and electricity customers. Its regulated holdings include electric distribution utilities in five Canadian provinces and two Caribbean countries and a natural gas utility in British Columbia, Canada. Fortis owns and operates non-regulated generation assets in Canada, Belize and Upstate New York. It also owns hotels and commercial office and retail space in Canada. Fortis Inc. shares are listed on the Toronto Stock Exchange and trade under the symbol FTS. Additional information can be accessed at www.fortisinc.com or www.sedar.com.
CONTACT:
Mr. Allan Robinson
VP, Customer & Corporate Services
Fortis TCI Ltd
Tel: 649-946-4313 Ext. 2507
Email: arobinson@fortistci.com