Providenciales, Turks and Caicos Islands (Wednesday, August 26, 2015) – Following a major vehicular accident in Providenciales early Monday morning, August 24, 2015, on call FortisTCI linemen were dispatched to conduct repairs to a broken pole. The scene, located westbound on Leeward Highway between Do It Center and KB Homes, was manned for more than ten hours as crews worked tirelessly to complete necessary repairs. This work was carried out by the crew, with the distribution line hot (energized), which ensured that electricity customers did not experienced any major outage.
The structure that was damaged was a 55-foot pole holding a 35kv transmission top circuit that powers Blue Hills. The pole was also holding a 12.5kv distribution underbuilt feeder which feeds Leeward Highway West. The linemen on scene along with FortisTCI substation electricians performed switching to ensure power supply remained to the Blue Hills and Leeward Highway West areas. The linemen safely replaced the damaged pole and conducted all distribution switches using approved hot-line methods.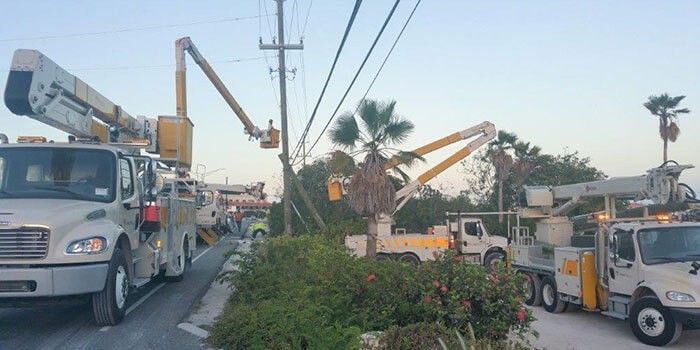 FortisTCI Vice President of Transmission & Distribution Devon Cox said, "This was a job well done by our certified linemen. Working on energised lines for 10 hours is very difficult and requires a great deal of concentration and skill. The team performed a very difficult task flawlessly, and we commend them. Their attention to detail and efforts to maintain a safe work environment during the day is most commendable."
The team from FortisTCI that carried out this complex work included Marcus Gray, Atley Gray, Myron Rigby, Kelorian Forbes, Kavin Ewing, Gregory Thomas, and Dave Laing. FortisTCI also wished to extend gratitude to the flagman from E.L. Construction that assisted with slowing traffic near the work site.
Authorities have advised that this incident is still under investigation, and initial reports are that there were no serious injuries. The Company wishes to remind the public to exercise all caution and care while driving to avoid incidents such as this that can be fatal. Total costs for repairs are still being calculated, but early estimates are in excess of US $5K.
Notes to Editors:
1) FortisTCI Limited (FTCI) became a wholly owned subsidiary of Fortis Inc. located in Newfoundland, Canada in August 2006. Turks and Caicos Utility Limited (TCU), which is the sole provider of electricity on the Islands of Grand Turk and Salt Cay, was acquired by FTCI in August 2012. FTCI is the sole provider of electricity in Providenciales, North Caicos, Middle Caicos, East Caicos and adjacent Cays, and South Caicos. Together the two companies serve more than 13,000 electricity customers in the Turks & Caicos Islands. The Utilities have an aggregate diesel-fired generating capacity of approximately 76.42 megawatts. Additional information on FortisTCI can be accessed at
www.fortistci.com
2) Fortis Inc. is a leader in the North American electric and gas utility business, with total assets of approximately $28 billion and fiscal 2014 revenue of $5.4 billion. Its regulated utilities account for approximately 93% of total assets and serve more than 3 million customers across Canada and in the United States and the Caribbean. Fortis owns non-regulated hydroelectric generation assets in Canada, Belize and Upstate New York. The Corporation's non-utility investment is comprised of hotels and commercial real estate in Canada. For more information, visit www.fortisinc.com or www.sedar.com
CONTACT:
Allan Robinson
VP, Customer & Corporate Services
FortisTCI Ltd
Tel: 649-946-4313 Ext. 2507
Email: arobinson@fortistci.com