FortisTCI representatives from the Providenciales and Grand Turk office locations delivered the items, including; bags, pencils, erasers, crayons, notebooks, pencil sharpeners, and colored pencils. The Company hopes that the donation will leave all students better prepared in the classroom.
​Commenting on the occasion, Ona Glinton Primary School's Vice Principal Ms. Rhoda Williams said, "We're very thankful for this gift from FortisTCI. It cannot be said enough, that it is so important for students to have adequate supplies both in school and at home, and it also helps when teachers know that their students have proper materials to complete their assigned tasks."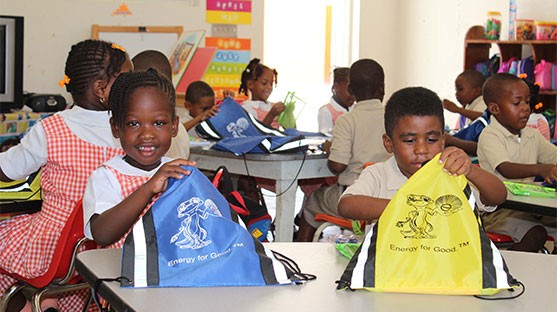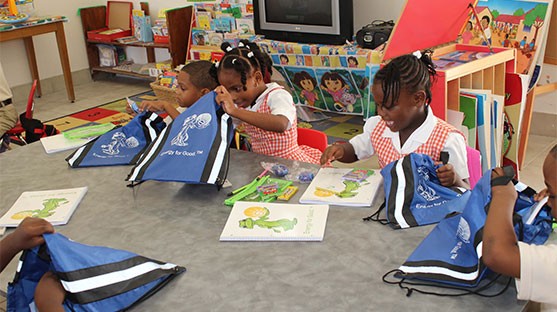 In total, approximately 300 bags filled with supplies were distributed to students with the help of the Ona Glinton staff. The children eagerly lined up to receive their bags and quickly went to class to put them to use. Teachers and students alike were grateful for the supplies as it meant that every student would have what they need daily.​
​Vice President of Customer & Corporate Services Allan Robinson said, "FortisTCI is proud to be a part of the Grand Turk Community, and we are happy when we can give back like this. Supplying these students with tools to aid in their learning experience, allows them to stay focused on their education and other important day to day activities. This is something that FortisTCI lives to be a part of."
Through the Adopt-a-School Program, this is just one of the initiatives planned by FortisTCI this year for Ona Glinton. Through careful communication with school officials and the Department of Education, FortisTCI looks forward to this continued partnership during the remainder of the 2014-15 school year.​
Notes to Editors:
1) FortisTCI Limited (FTCI) became a wholly owned subsidiary of Fortis Inc. located in Newfoundland, Canada in August 2006. Turks and Caicos Utility Limited (TCU), which is the sole provider of electricity on the Islands of Grand Turk and Salt Cay, was acquired by FTCI in August 2012. FTCI is the sole provider of electricity in Providenciales, North Caicos, Middle Caicos, East Caicos and adjacent Cays, and South Caicos. Together the two companies serve approximately 13,000 electricity customers in the Turks & Caicos Islands. The Utilities have an aggregate diesel-fired generating capacity of approximately 75 megawatts. Additional information on FortisTCI can be accessed at www.fortistci.com.
2) Fortis is the largest investor-owned distribution utility in Canada, with total assets approaching $25 billion and fiscal 2013 revenue exceeding $4 billion. Its regulated utilities account for approximately 93% of total assets and serve more than 3 million customers across Canada and in the United States and the Caribbean. Fortis owns non-regulated hydroelectric generation assets in Canada, Belize and Upstate New York. The Corporation's non-utility investment is comprised of hotels and commercial real estate in Canada. For more information, visit www.fortisinc.com or www.sedar.com.
CONTACT:
Allan Robinson
VP, Customer & Corporate Services
FortisTCI Ltd
Tel: 649-946-4313 Ext. 2507
Email: arobinson@fortistci.com