Providenciales, Turks and Caicos Islands (Wednesday, August 19, 2015) – Residential customers in Providenciales can now apply for an In-Home Energy Audit facilitated by FortisTCI (the Company). This new service will be offered by the Company free of charge for one year, and is designed to assist customers in identifying ways to improve their energy efficiency at home.
To take advantage of the In-Home Energy Audit Program, customers must visit the FortisTCI Customer Service Centre on Leeward Highway to complete an application. The application and interview process allows for the collection of preliminary information, provides insight into what types of appliances are installed in the home, and typical behaviours of household members relating to day-to-day electricity usage. Once the application process and interview is completed, the energy audit is scheduled and performed at the home. All information gathered, including a utility bill analysis, is then compiled to create a summary of the total energy usage. Approximately one week following the In-Home Energy Audit, a final report is issued to the customer. This report details the key findings and recommendations to achieve better energy efficiency.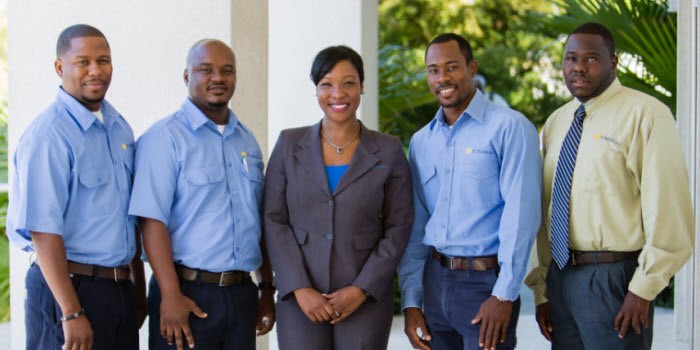 (FortisTCI Energy Audit Team standing with Director of Customer Service Aisha Laporte - L to R): Deanza Wilson, Sydney Dean, Aisha Laporte, James Julien, and Romano Ingham.
FortisTCI President and CEO Eddinton Powell said, "We are excited about the value proposition of this program. It will empower our customers by offering them solutions for managing their electricity costs. The bottom line is, the FortisTCI In-Home Energy Audit Program will help our customers save money by promoting the efficient use of energy.
Notes to Editors:
1) FortisTCI Limited (FTCI) became a wholly owned subsidiary of Fortis Inc. located in Newfoundland, Canada in August 2006. Turks and Caicos Utility Limited (TCU), which is the sole provider of electricity on the Islands of Grand Turk and Salt Cay, was acquired by FTCI in August 2012. FTCI is the sole provider of electricity in Providenciales, North Caicos, Middle Caicos, East Caicos and adjacent Cays, and South Caicos. Together the two companies serve more than 13,000 electricity customers in the Turks & Caicos Islands. The Utilities have an aggregate diesel-fired generating capacity of approximately 76.42 megawatts. Additional information on FortisTCI can be accessed at
www.fortistci.com
2) Fortis Inc. is a leader in the North American electric and gas utility business, with total assets of approximately $28 billion and fiscal 2014 revenue of $5.4 billion. Its regulated utilities account for approximately 93% of total assets and serve more than 3 million customers across Canada and in the United States and the Caribbean. Fortis owns non-regulated hydroelectric generation assets in Canada, Belize and Upstate New York. The Corporation's non-utility investment is comprised of hotels and commercial real estate in Canada. For more information, visit www.fortisinc.com or www.sedar.com
CONTACT:
Allan Robinson
VP, Customer & Corporate Services
FortisTCI Ltd
Tel: 649-946-4313 Ext. 2507
Email: arobinson@fortistci.com