Providenciales, Turks & Caicos Islands (June 22nd, 2009) - PPC Ltd launches a full-scale environmental program, designed to improve environmental and safety standards at the plant, head office and amongst employees.
To reduce the 'environmental footprint' the company is making changes in four major areas in its operations: the enhancement of optimal plume dispersion, reduction in noise pollution, preventative measures of water contamination, and staff education plan.
As part of the program, PPC is working towards achieving the ISO 14,001 standard by 2012, which is the international benchmark on environmental management. This matrix is a management tool, which enables organizations of any size to identify and control the environmental impact of its activities, products and services. It also helps to improve the environmental performance continually and provides a systematic approach to setting environmental objectives and targets, to achieving these and to demonstrating that they have been achieved.
An Environmental Officer Mr. Eustace Musgrove was recently appointed, and will be responsible for advising and implementing new and existing environmental and safety procedures in the program. Mr. Musgrove discussing his appointment and the launch of this new program noted, "It is a positive initiative for the company to pursue the ISO 14001 standard as it will enable us to identify solutions for current and potential environmental challenges. We must remember the importance of the environment that we live in and preserving it for the present and the future is a responsibility not only for PPC but everyone. However, as the power company, we want to lead by example and this program will guide us to make the necessary changes to reduce our own carbon footprint".
Commenting on Mr. Musgrove's appointment, PPC's President and CEO, Mr. Eddinton Powell, observed that "the company is delighted to announce the appointment of Eustace to the position of Environmental and Safety Officer. Over the past several Months, Eustace has received extensive training in Environmental Management Systems (EMS) and Safety Management. Eustace's job is to be the champion for the environment and safety at the company and to lead our team in these areas. I can't think of anyone who is more qualified to do that than Eustace."
The company's Strategic Environmental Initiative (SEI) is aimed at developing and achieving international standards that will ensure that PPC has one of the best environmental codes in the region. This is consistent with the company's five-year strategic goal of becoming the best utility in the Caribbean. Key aspects of the program include:
Reduce smoke emissions
At the power plant, the engine stacks will be increased in height (approximately 175 feet above sea level) and installed with a state of the art exhaust. The increased height will allow for maximum plume dispersion, and prevailing winds to take the exhaust over the ocean. All of PPC's new generation buildings are equipped with these higher stacks, and the company is retrofitting the older plant with similar stacks. By the end of the year, all of the PPC plants will have these higher more efficient exhaust systems. The new exhaust stacks will also have a uniform look that will be more aesthetically pleasing in the Providenciales skyline.
Reduction of noise pollution
PPC is erecting state of the art soundproof buildings to house the power plant's engines. All of PPC's new generation buildings have been designed and constructed with the latest noise attenuating (reduction) technology. In addition, the company has been conducting noise attenuation studies on its older buildings and recently signed a contract to carry out the noise attenuation recommendations to the older facilities. This will contain the level of noise significantly, which will be noticeable to residents in the immediate vicinity. PPC's new buildings and the retrofitted older buildings meet and will meet worldwide standards for noise attenuation, fire protection, and spill management.
Water Monitoring
PPC already has measures in place that ensures that ground water is free from contamination. When the company has completed its Environmental Program there will be additional preventative measures in place that will prevent any chances of contamination. The Company is currently conducting a comprehensive water drainage study that when implemented next year and will result in significant improvement to water runoff management.
Staff Education Program
PPC will launch an ongoing educational program for staff to educate them on the important role that they play in preserving the environment. Staff will receive continual training in all aspects of environmental management. In addition, environmental management will be an integral part of the company's Employee Performance Appraisal System, with the purpose of providing incentives to employees to increase environmental awareness and practice. Mr. Powell added that, "The environmental program will make a significant difference throughout our operation, the community and for many of PPC's business partners. We are aiming to become ISO 14001 compliant not only because it makes good business sense, but we hope to encourage our partners and the community to embrace environmentally friendly practices. All of our engines currently run on Number 2 light diesel, which is exactly the same grade that diesel vehicles in the Turks and Caicos use; and we are committed to moving to even lower sulfur diesel as soon as it's available to us in the Caribbean. Moreover, our new generation of engines, which will start to come on line next year, will provide a paradigm shift with respect to environmental management. PPC is dedicated to being a responsible corporate citizen, facilitating growth and supporting economic development in the Turks and Caicos Islands in a safe and environmentally responsible manner."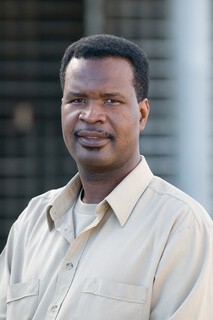 Eustace Musgrove: Environmental Officer