Providenciales, Turks & Caicos Islands, (Monday, August 16th, 2010) - PPC Ltd, in keeping with its long term Human Resources development strategy, recently announced the promotion of three of its employees. The employees have recently been promoted within their various departments following years of work and support as well as training within their respective fields. Francis Oyakhire, Sonia Williams and Mervin Forbes represent the fact that dedication and commitment to quality work and service pays off.
Francis Oyakhire started with PPC in January 2009 as a Senior Information Technology Specialist. Francis is a graduate of the Texas Southern University where he earned a Bachelor of Science degree in computer science. With nine years of technical experience from systems analyst to technical science, Francis has been able to enhance the operations of PPC. His leadership abilities and work ethic, along with dedication to his work, has made Francis an asset to PPC and has led to him being promoted to Supervisor of Information Technology Services as of July 2010.
Sonia Williams has been promoted to the position of Executive Administrative Assistant to PPC's CEO and President. Sonia previously held the position of Human Resource Officer and Executive Assistant within the Human Resource Department. With her training and degree in Business Studies as well as several years experience in various positions within well established organisations, Sonia is well equipped to make a considerable contribution within her position.
Mervin Forbes has been employed with PPC since October 2009 where he began as a Plant Handyman. He has an extensive background in maintenance and plant operations as well as a diploma in Building and Apartment Maintenance. Mervin's hard work and commitment has led to him being promoted to Site Services Supervisor as of July of this year.
In congratulating the staff on their achievements, PPC's President and CEO, Eddinton Powell, expressed that "our newly promoted employees have set the bar high for performance within PPC. We stress the development of our human capital as a key strategy towards achieving our strategic objective of becoming the best utility in the Caribbean based on customer satisfaction, reliability, innovation, and employee competencies."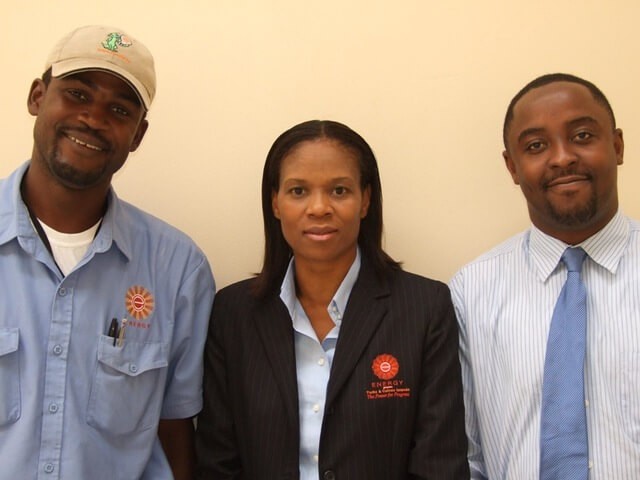 (Left to Right): Mervin Forbes, Site Services Supervisor; Sonia Williams, Executive Administrative Assistant to the CEO; Francis Oyakhire, Supervisor of IT Services.