Providenciales, Turks & Caicos Islands, (Tuesday, July 13th, 2010) - PPC Ltd. has welcomed four new employees, who will work alongside current staff members to strengthen the quality and level of service experienced by customers. Gregory Thomas, Edwin Taylor, Douglas Ruse and Vincent Riviere have all been hired to various departments within the company.

Gregory Thomas is a native of South Caicos and began his professional career with PPC as a Journeyman from 2001 to 2006. He furthered his education with Devry University in Miramar Florida and obtained an Associate of Science Degree in Electronics and Computer Technology, and earned a Bachelor of Science Degree in Technical Management. Upon his return to the Turks and Caicos, Gregory rejoined PPC on June 1st in the new position of Junior High Voltage Plant & Substation Electrician within the Electrical and Maintenance Department.

Jason Forbes began with PPC on April 19th 2010 as a Labourer in the Materials Management Department. Jason has a bright career ahead of him at PPC. He brings with him seven years of site management experience from previous work in the construction field and also possesses a certificate in business management.

Edwin Taylor joined PPC's Human Resource team on May 17th 2010 as the Senior Human Resource Officer. Edwin will be influential within this field, having worked as a civil servant for 13 years in various positions with the last being the Executive Assistant to the Chief Executive. Mr. Taylor holds a Bachelor of Science Degree in Management with a concentration in Human Resources and is one year away from obtaining a Professional Human Resource Certification (PHR).

Douglas Ruse brings with him a wealth of knowledge and expertise, having thirty five years engineering and management experience. A native of British Columbia, Canada, Douglas has a Bachelor of Science Degree in Electrical Engineering and is also a member of the Association of Professional Engineers, Geologists and Geophysicists of Alberta (APEGGA). He has held various positions within Fortis British Columbia including Engineering Manager and Manager for Planning. Douglas commenced his employment with PPC on April 15th in the position of Manager, Transmission & Distribution Design.

Vincent Riviere has been employed with PPC Ltd since May 25th as a High Voltage Plant and Substation Electrician within the Electrical and Maintenance Division. Vincent hails from Dominica and has over fourteen years of experience in the electrical profession. He has a Diploma in Mechanical & Electrical Engineering and has also completed training in Power Plant Management, Accident & Incident Investigation and Hazard Identification and Management.

In welcoming the new employees to the company, CEO, Eddinton Powell, stated "We are confident that the skills, experience and work ethic that Gregory, Edwin, Douglas and Vincent bring to PPC will work to enhance the capability of our organisation; and is aligned with our overall strategic objective of becoming the best utility company in the Caribbean."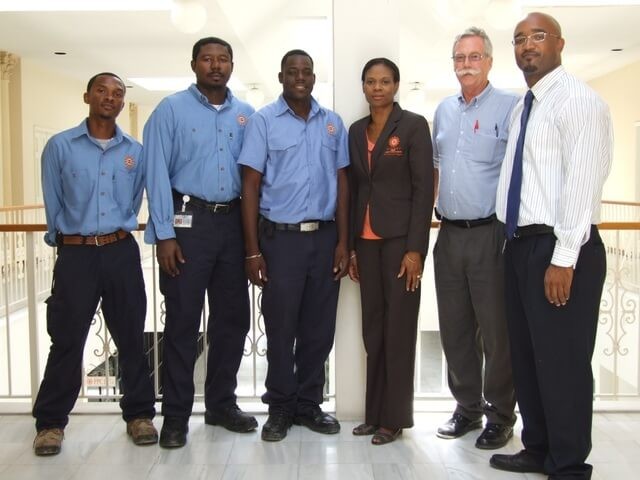 Photo Caption: (Left to Right): Gregory Thomas; Vincent Riviere; Jason Forbes; Sonia Williams, promoted to position of Executive Administrative Assistant to the CEO; Douglas Ruse and Edwin Taylor.