Providenciales, Turks & Caicos Islands (October 13th 2009) - As part of PPC's ongoing commitment to their human resources development, this year the company arranged for two of their linemen apprentices to take part in a training exercise at the highly-coveted Electrical & Utilities Safety Association (E&USA) in Toronto, Canada.
Kevin Ewing and Kelorian Forbes who work as Power Line Technician Apprentices and are part of PPC's apprenticeship training program had the opportunity to travel to Canada to attend a 10-day course on electrical and safety theory. Both gentlemen successfully completed their first year apprenticeship and are currently in their second year of the 4-year program. Upon completion of the course the employees will become fully qualified Power Line Technicians.
Each year a trainer from the E&USA visits Providenciales to conduct the training sessions. However this year, for the first time, the company sent their apprentices pverseas to complete their annual training directly at the E&USA in Canada. The company found that by sending their staff overseas to work in this different environment, allowed them to gain more from the experience. It provided them with a different level of hands on experience in various areas including pole climbing and operating underground and overhead cable terminations. In addition, they benefited from networking and sharing experiences with other international apprentices based at the Ontario utility.
Brian Walsh, Vice President of Operations noted that, "This is another step in raising the competency bar. We are committed to developing our employees' skills set and we continue to do so by providing high caliber training. Their best efforts to succeed and to grasp these opportunities are our expectation."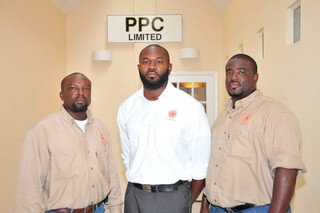 Photo (LtoR): Kevin Ewing, Devon Cox; Operations Manager and Kelorian Forbes.