Providenciales, Turks & Caicos Islands (March 16, 2010) - Winners of the Education Department's Reading Rush Poster Competition sponsored by PPC Ltd recently received their prizes at a prize giving ceremony held at the Clement Howell High School.

The Schools' Poster competition, under the theme "2010, Year for Reading: TCI, Join the Rush" was opened to primary and secondary school students enrolled in private and government schools. Over 70 entries were received with Ona Glinton Primary School submitting the most entries in the primary school category and Clement Howell High School in the secondary school category.

First place in the Primary School ages 6-8 category was won by Amrita Rampersaud of Ona Glinton Primary School. Second place was Jenequa Williams of the Oseta Jolly Primary School and third place went to Ashline Dorris of Ona Glinton Primary School.

In the Primary School ages 9 -10 category Demetrius Hall and Darne Williams of Ianthe Pratt Primary School won first and second place respectively with Shelta Romulus of Eliza Simmons Primary School placing third.

First place in the ages 11 -13 category was won by Angeline Maignon of Adelaide Oemler Primary School. Second place and third place went to Leondra Role and Franco Smith of Ianthe Pratt Primary School.

Charlemagne Charles of Clement Howell High School won first place in the 15 and under category with Davidson Louis of British West Indies Collegiate winning second place and Tyson Romulus of the HJ Robinson High School placing third.

First place and second place in the over 16 years age category went to Vanessa Velbur and McHenley Charles, both students of the Clement Howell High School.

Special mention was also given to four year old Michael Forbes of Eliza Simons Primary School.

Daphne Brooks-Penn, PPC's Manager of Corporate Services and Company Secretary in praising the students for their creativity and commitment, exclaimed "You truly put a lot of thought in your designs and through your creativity you were able to depict and highlight the ways we can all encourage and promote reading in the TCI."

Mrs. Brooks-Penn also stated, "At PPC we stand committed to investing in the local community and specifically we enjoy being an active sponsor in any event which promotes and encourages the development of our youth. PPC would like to thank the Ministry of Education for allowing us the opportunity to be part of positively shaping your minds and future. "
Mrs. Brooks-Penn presented the students with their awards and encouraged them to share the joys of reading with their friends and family.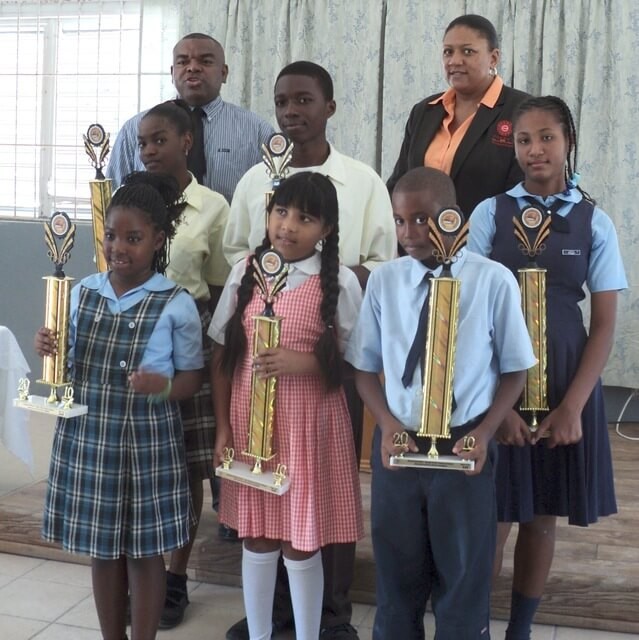 PPC's Daphne Brooks-Penn and Edgar Howell, Director of Eduction with the first place winners of the poster competition.