Providenciales, Turks and Caicos Islands (Thursday, April 15, 2021) – Graceway Sports Centre and H2O Life. Style. Resort are the latest FortisTCI partners to join the company's Utility Owned Renewable Energy (UORE) program. This past weekend, TCI Electrical Inspector Chavo Garland and Michael Vance of Asante Energy, with the FortisTCI team, commissioned the grid-tied rooftop distributed solar PV systems, which have been installed at both locations. Together, these installations add 376.2 kW to the Providenciales network, with a projected annual production of 563.8 MWh.
Local installers RENU Energy TCI completed the 271.7 kW dc system at the Graceway Sports Center, and Green Revolution completed a 104.5 kW dc system at H2O Life. Style. Resort. The total investment cost was approximately $1 Million.
Founder and Managing Partner Matt Gorvin said, "At Renu Energy TCI we believe that clean, reliable and renewable energy is the future for TCI and are therefore proud to be part of this exciting project that brings us one step closer to this vision. I would like to thank the Graceway Group and FortisTCI for their trust in us and our team for their dedication and quality of execution. We look forward to the continued relationship with FortisTCI and to providing more clean and renewable energy to this great nation."
Speaking about being a part of the UORE program, Graceway Sports Centre Manager Adina Ciurar said, "We, at Graceway Sports Centre, are thrilled to be joining FortisTCI in this amazing initiative and help take TCI one step further towards becoming an eco-sustainable country. We continue to be committed to our mission to the community and do our part for our 'Beautiful by Nature' country."
Founder of Green Revolution Solar Paul Chaplin said, "Green Revolution Solar are proud to be a part of the first rooftop solar installation on a South Shore Resort in Providenciales. Fortis TCI and H2O Life. Style. Resort's, environmentally friendly ethos resonates with Green Revolution Solar's mission to reduce the carbon footprint of the TCI, making it 'Greener by Nature'."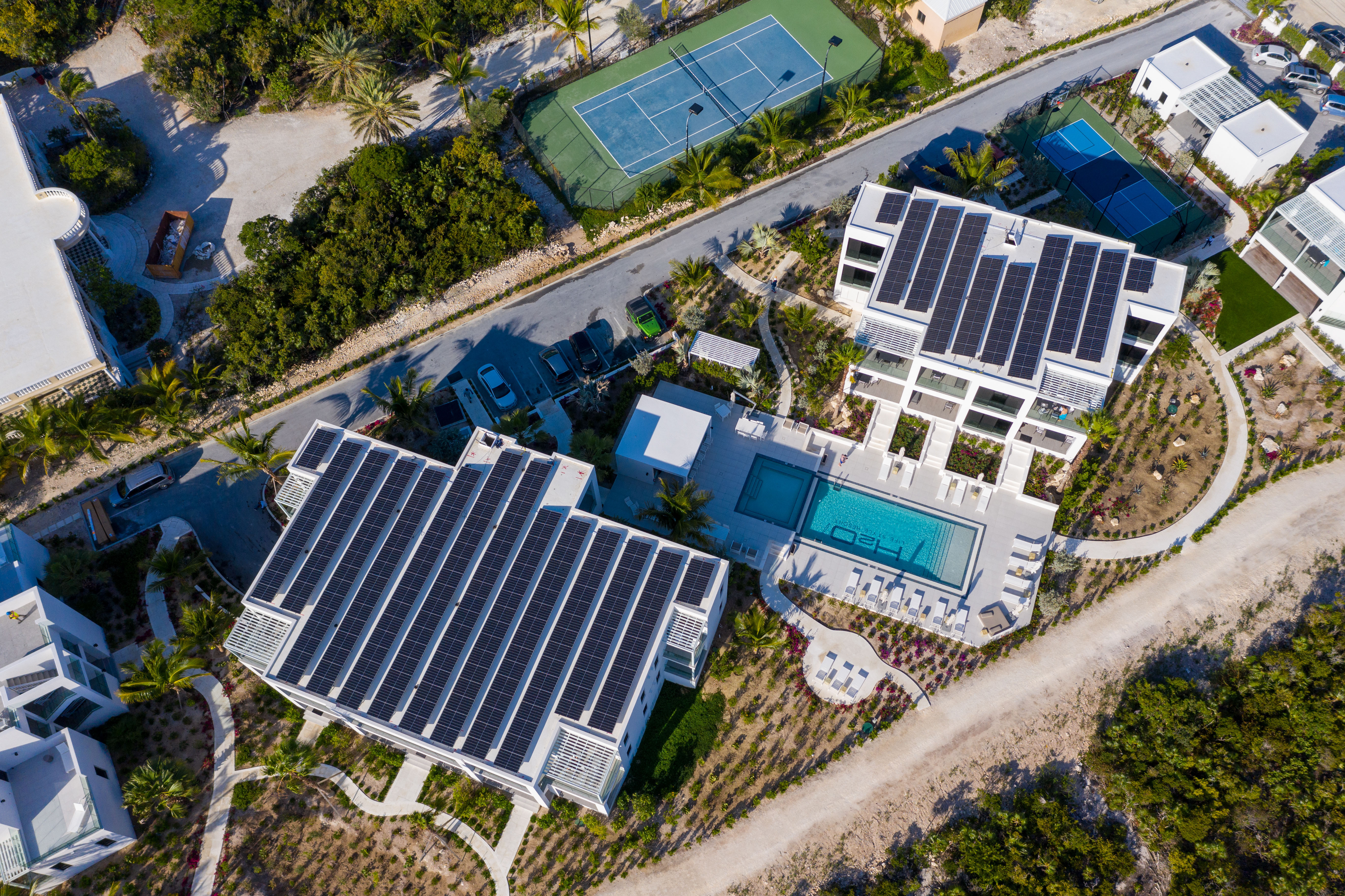 "A 104.5 kW dc installation at H2O Life. Style. Resort on Long Bay Beach will produce approximately 158.9 MWh annually"
H2O Life. Style. Resort Developer Rob Ayer said, "We are excited about being part of the FortisTCI renewable energy program and feeding the grid with the solar power generated by our 105 kW rooftop system. I believe we are among the first hotels in Turks and Caicos to have a solar system in this size range, and we look forward to the savings that this will bring. Most importantly, this initiative is consistent with H2O Life. Style. Resort's strategy about being environmentally friendly, as we do our part in reducing fossil fuel usage. In fact, this is only one of several initiatives H2O has in helping tourists "stay greener."; others include a) no single-use plastic water bottles since all our drinking water is treated at the tap with advanced filter systems, b) our native landscaping is watered with treated wastewater using a Bionest system c) the use of E-vehicles, and d) all energy-efficient lighting and systems throughout the Resort. Fortis, with the help of Green Evolution Ltd. has been great to work with, and we look forward to producing clean energy."
Sharing her thoughts on the progress with renewable energy, FortisTCI President and CEO Ruth Forbes said, "I am pleased to welcome Graceway Sports Center and H2O Life. Style. Resort as our new partners in renewable energy. Adding more solar to the grid means we are one step closer to achieving renewable energy penetration levels we want to see in the Turks and Caicos Islands and reducing our carbon footprint. This is what it means to 'Transform Energy,' and it's a vision that hinges on continued strong partnerships."
Mrs. Forbes continued, "I also want to thank RENU Energy TCI, Green Revolution Solar and the FortisTCI team, who are working together to change our energy landscape and meet the Resilient National Energy Transition Strategy targets."
EDS Ltd. will become the company's newest UORE partner in the coming weeks, as a grid-tied rooftop distributed solar PV system there is commissioned. Under the UORE program, qualifying customers partner with FortisTCI to lease their rooftop space for the generation of solar energy over 20 years. In turn, customers receive a monthly credit on their electricity bill for use of the space and an annual variable incentive based on system performance.