Providenciales, Turks and Caicos Islands (Wednesday, February 24, 2021)
FortisTCI announces the completion and commissioning of a 1,500-foot fuel pipeline that transfers fuel from tankers to generate and deliver electricity in the nation's capital Grand Turk. The new fuel pipeline is one of the company's most recent major capital projects costing approximately $750,000 to replace an aging installation believed to be more than 30 years old.
The old pipeline was decommissioned 2019, during which time fuel had to be carefully transferred above ground under the guidance of the Department of Environment and Coastal Resources (DECR). Construction for the new pipeline commenced in 2020 and had minor delays due to the coronavirus pandemic. The facility enables FortisTCI to receive fuel safely and with minimal environmental risks during the process. The job was completed following stringent environmental practices and with expertise in building safe and reliable pipelines.

FortisTCI Director of Energy Production Alvejes Desir was the project lead, supported by international contractors Cape Caribbean Inc. and local contractors Rolle Construction. The FortisTCI project team included Senior Vice President of Operations Devon Cox, Vice President of Grand Turk and Sister Islands Operations Allan Robinson, Technical Consultant of Engineering Michael Polonio, Grand Turk Superintendent of Plant Control Franklyn Been and Grand Turk Operations Manager Neil Allen. The Public Works Department, Physical Planning, Road Safety Department, DECR and the Ports Authority were also instrumental in completing this project.
Speaking about the pipeline, Director of Ports Authority Delton Jones said, "The Ports Authority is pleased with the commissioning of the new fuel pipeline at South Dock, Grand Turk by FortisTCI, and was very happy to facilitate the execution of this construction project. The operations of the new fuel pipeline are consistent with our Strategic Plan: Goal 2 - Safe Ports. The new pipeline replaces a regime where fuel was transferred using hoses, which floated on the sea. This had inherent environmental and safety risks. The new pipeline is a win-win and a good example of a mutually beneficial public and private sector collaboration."
FortisTCI President and CEO Ruth Forbes said, "I want to commend project leader Alvejes Desir and all the project team members who worked over to finalize the new pipeline installation. Having a secure method for fuel delivery on Grand Turk means that we can continue to provide residents with the reliable electricity they have come to expect. And being an ISO 14001 and 45001 certified operation, we live by a code of safety always and protecting our environment in all facets while carrying out our day-to-day duties. Replacing the pipeline represents our commitment to serving our customers with a safe, high quality and reliable service."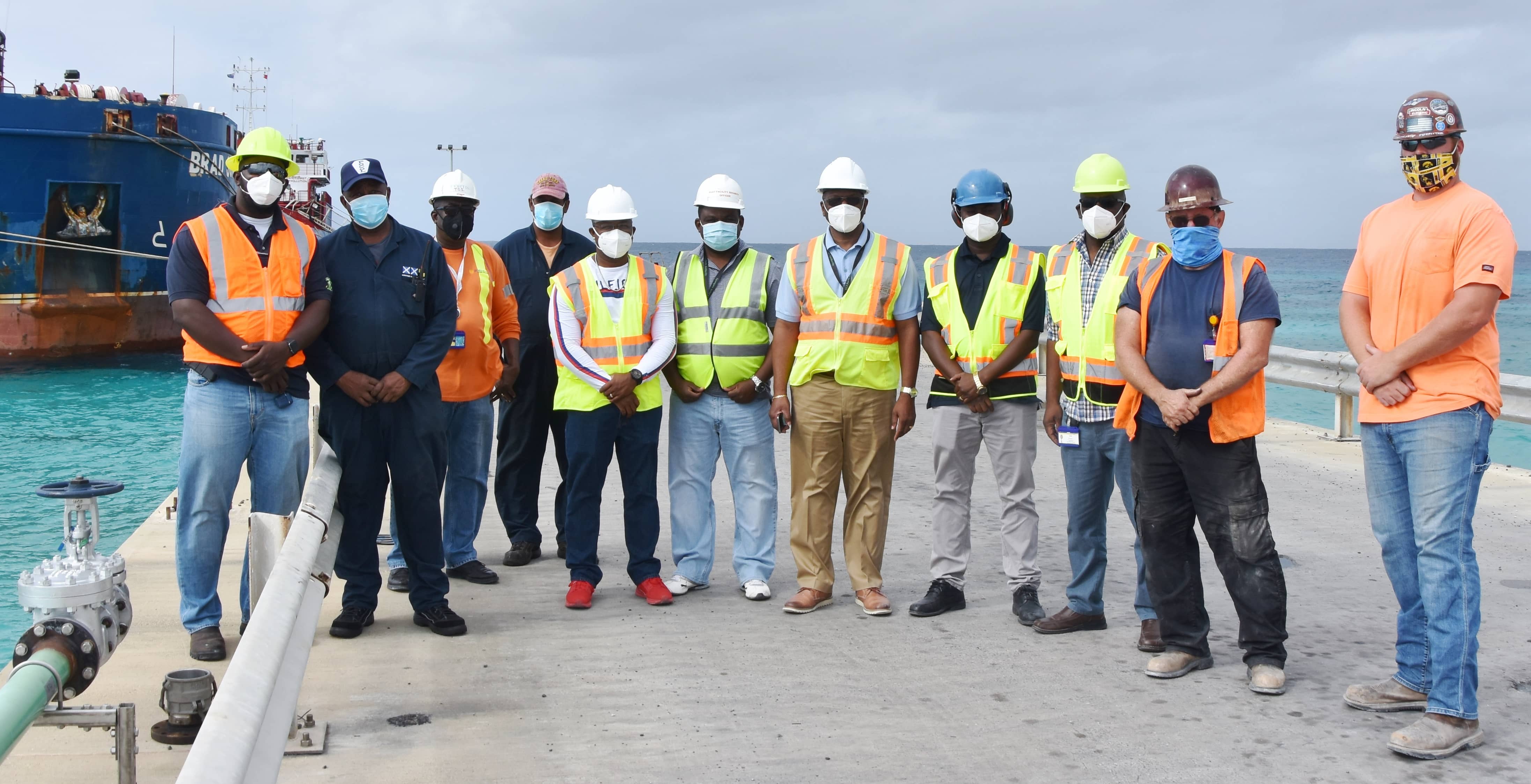 Caption – A team in Grand Turk meet to inspect and commission the new fuel pipeline. From L to r: Alvejes Desir (FortisTCI), Castro Edmund (MV Brad Sun) , Franklyn Been (FortisTCI), Luis Fernando (MV Brad Sun), Dwayne Simmons (Ports Authority) , Keith Simmons (Ports Authority), Delton Jones (Ports Authority), Neil Allen, (FortisTCI), Allan Robinson (FortisTCI), Carl Newbby (CAPE), Dominc Litty (CAPE).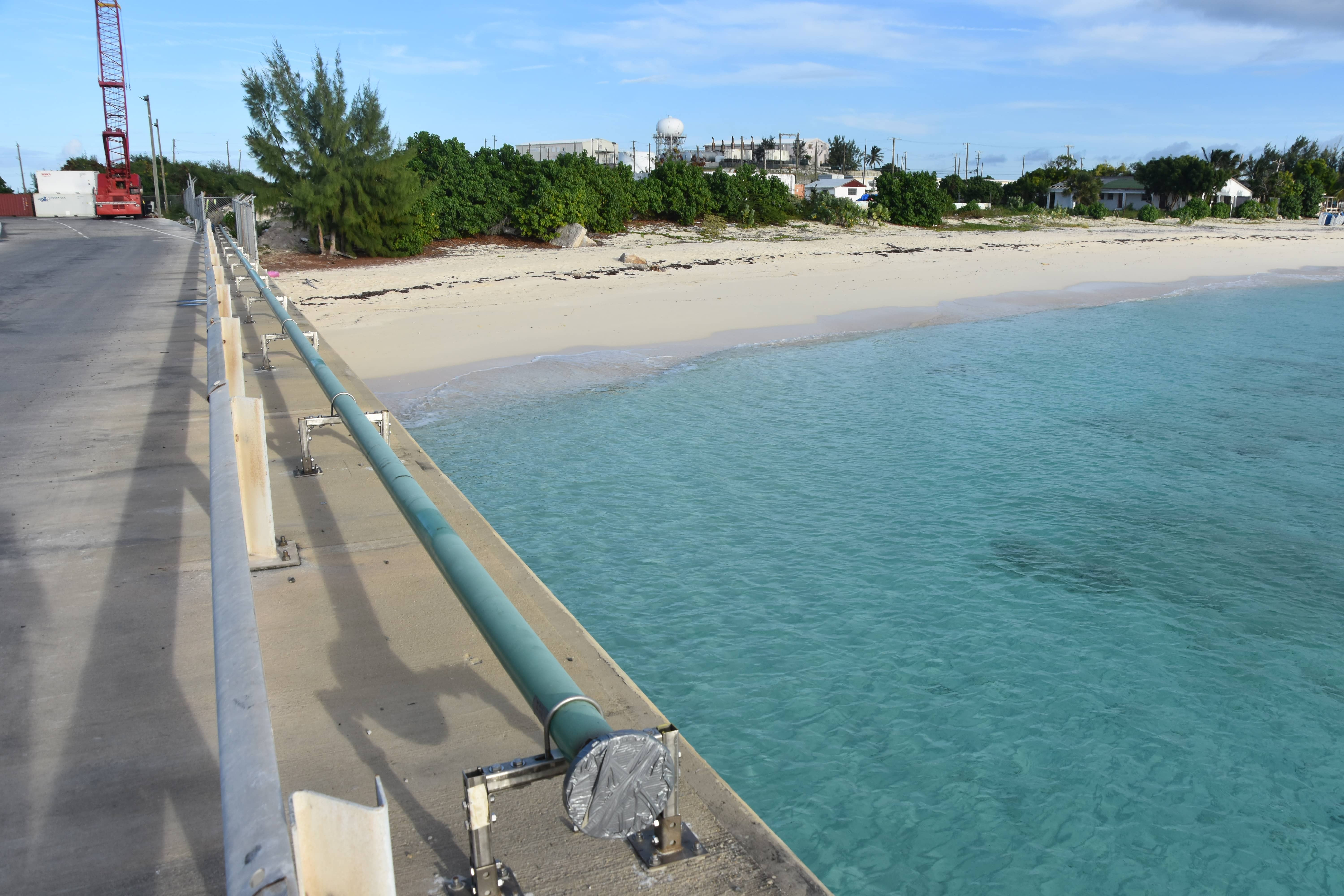 Caption – A new 1,500-foot fuel pipeline recently installed at South Dock in Grand Turk replaces an older pipeline thought to be more than 30- years old. The project was completed following the highest environmental standards and safeguards the fuel transfer process necessary for the continued delivery of reliable electricity to the residents of Grand Turk.
Contact:
Talisha Simons
Senior Director of Corporate Communications & Public Affairs
FortisTCI Ltd
Tel: 649-946-4313 Ext. 2519
Email: tsimons@fortistci.com