Providenciales, Turks and Caicos Islands (Thursday, March 4, 2020) – FortisTCI alongside The Ritz-Carlton Turks and Caicos and renewable energy service provider Green Revolution, commissioned a 210.6 kW solar PV system installed above the luxury resort's casino and restaurant. The project represents the tenth Utility Owned Renewable Energy (UORE) partnership, and an investment of approximately $500,000.00. Completed over the past seven months, the grid-tied rooftop installation is expected to generate approximately 310MWh annually, helping avoid roughly 244 tons of CO2 emissions.
FortisTCI is committed to integrating more renewable energy to its electricity grid. The shift to renewables is supported by the goals established and agreed to by FortisTCI and the Turks and Caicos Islands Government as outlined in the country's Resilient National Energy Transition Strategy (R-NETS). The R-NETS aims to integrate at least 33% renewable energy by 2040, a target that will be reviewed and updated regularly based on market conditions and new technology.
Green Revolution founder Paul Chaplin said, "The Green Revolution team is very excited to be part of the completion of the first major solar PV installation on a Grace Bay Beach resort, under the FortisTCI UORE Program. We are glad to work with our partners FortisTCI and Desarrollos HotelCo. We look forward to what's ahead and seeing more installations like this in the future." Roberto Stipa, Developer and Managing Director of Hotelco Turks and Caicos added his thoughts saying, "This project forms part of our commitment to significantly reducing the carbon footprint and traditional energy consumption at the hotel; this has been a key focus of Hotelco from the initial design phase to the ground up construction and build of the hotel."
General Manager of The Ritz-Carlton, Turks and Caicos, John Hazard, said, "The Ritz-Carlton Hotel Company is proud to be part of any project that fosters and encourages renewable energy sources. We intend to expand our efforts locally through initiatives such as greater recycling, and other opportunities in partnership with FortisTCI for energy-efficient solutions at the hotel."
FortisTCI President and CEO Ruth Forbes said, "This solar installation at the Ritz-Carlton is a testament to the changes happening in the energy sector and a showcase of how good partnerships can be the catalyst for change. Despite the challenges of 2020 and their ongoing impact, FortisTCI's commitment to sustainability programs has not waivered. Green energy remains a key priority for our business, and we will continue to work toward meeting objectives outlined in the R-NETS, including increasing the uptake of solar energy throughout the TCI."
Mrs. Forbes continued, "Renewable energy programs like UORE are a great way to work together with customers to manage our impact on the environment, which is crucial to preserving our tourism industry. We all have a part to play. FortisTCI cannot transform energy in the Turks and Caicos Islands without all stakeholders on board – customers, employees, business partners, investors, regulators, and the government. I welcome the Ritz-Carlton as one of our newest partners."
Fortis TCI will commission three additional UORE projects in March and April 2021. Collectively, these projects will add the equivalent of a 400 kW PV system to the Providenciales electricity system housed atop of Graceway Sports Center, H2O Resort, and Engineering Design Services Ltd. Together, and once installed, these grid-tied installations will generate approximately 605.2MWh annually and reduce even further TCI's CO2 emissions.
All customers participating in the UORE program receive a monthly fixed credit for the use of their rooftop space and an annual variable incentive based on yearly system performance or energy production.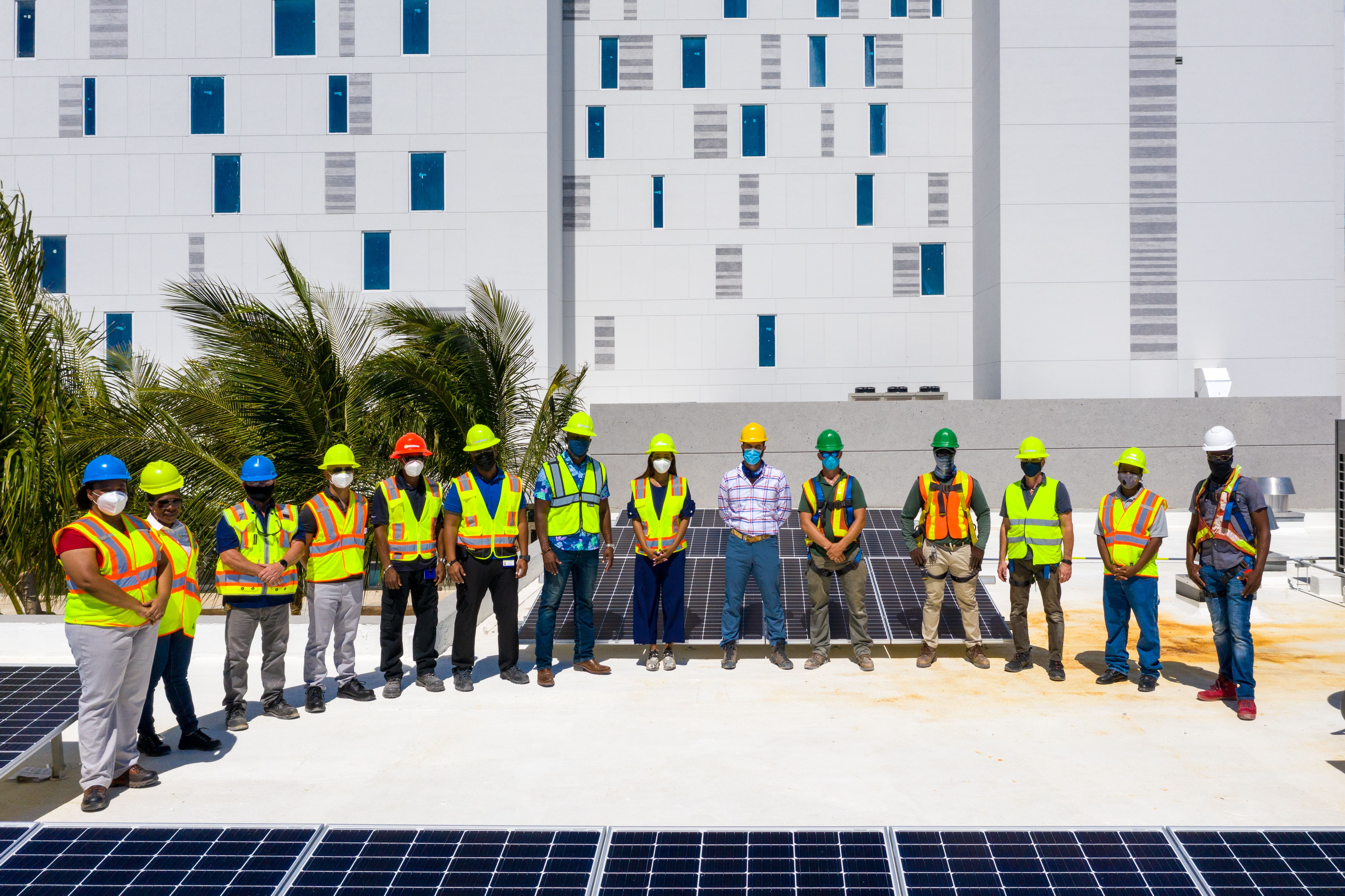 Caption: FortisTCI President and CEO Ruth Forbes (center, left), Ritz-Carlton Developer Roberto Stipa (center) and Green Revolution installer Joe Ryan (center, right), and their representatives commission a 210.6kW solar PV system on the roof of the luxury resort's casino and restaurant.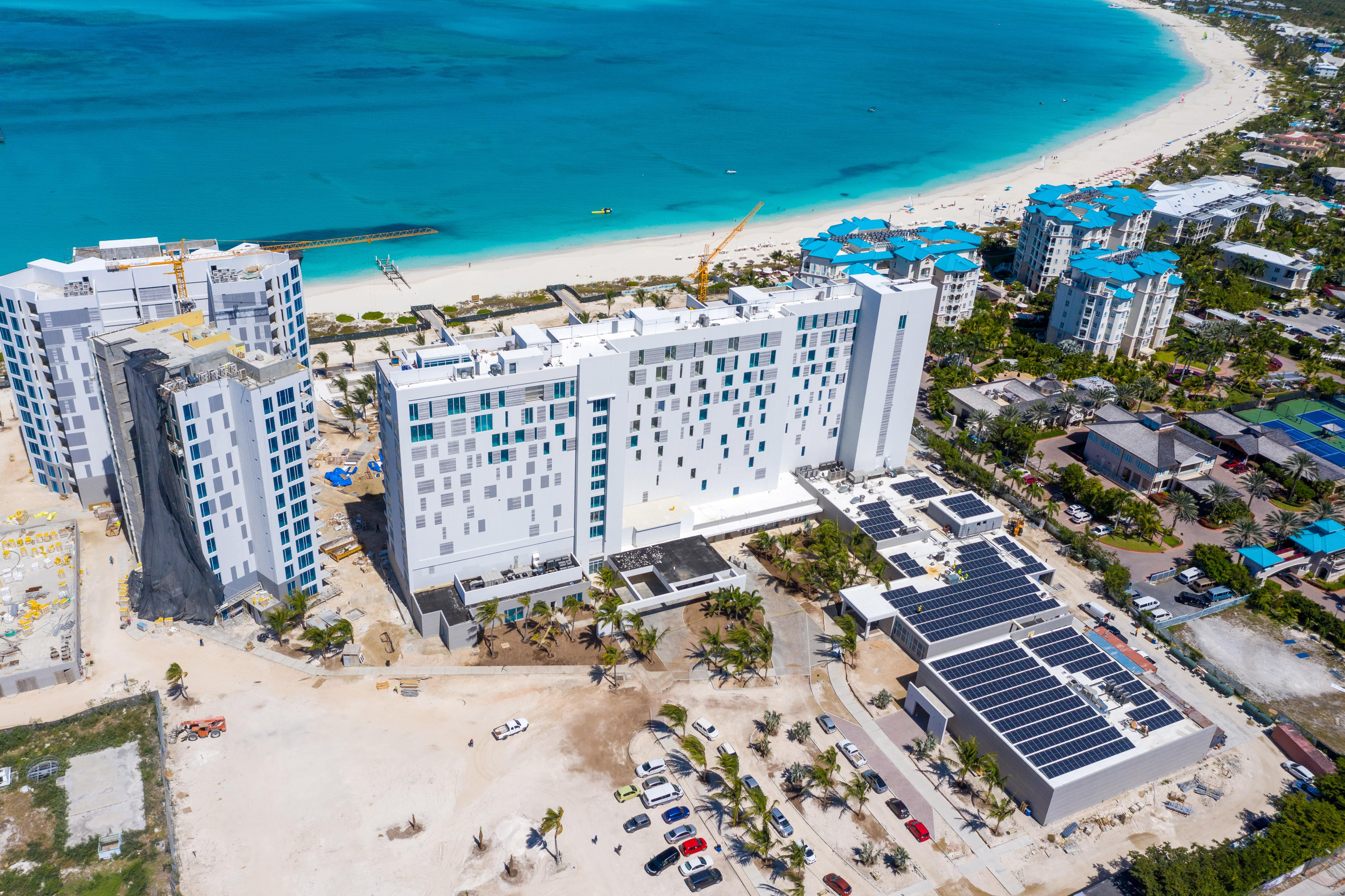 Caption: The Ritz-Carlton Turks and Caicos is FortisTCI's 10th Utility Owned Renewable Energy (UORE) partner. A 210.6kW solar PV system was commissioned on the roof of the resort's casino and restaurant on Friday, February 26.
Contact:
Talisha Simons
Senior Director of Corporate Communications & Public Affairs
FortisTCI Ltd
Tel: 649-946-4313 Ext. 2519
Email: tsimons@fortistci.com