Providenciales, Turks and Caicos Islands (June 8, 2015) – Employing the best people with the right qualifications and expertise is critical to the operations of FortisTCI (the Company). That is why the Company continues to invest heavily in personal and professional growth through training for its employees. Over $2 million dollars (see table below) was spent on internal and external training initiatives between 2010 and 2014; many of which are certified. This figure includes the cost of scholarships, apprenticeship programs, high development.
FortisTCI Training and Scholarships
Subject

2010

2011

2012

2013

2014

Total

Actual

Actual

Actual

Actual

Actual

*Training Cost

$248,582
$234,053
$257,445
$376,143
$565,773
$1,681,996
Scholarship Cost
$108,922
$57,113
$110,972
$36,978
$32,130
$346,115

Total

$357,504

$291,166

$368,417

$413,121

$597,903

$2,028,111
*Training Examples - Apprenticeship programs, exposure to sister utilities Community College support, seminars etc.
The Company's major investment in training derives from the fact that it has been increasingly more difficult to secure qualified and experienced talent. The Company maintains a Five-year Strategic Training Plan that identifies specific skills gaps, as well as an Annual Training Register which identifies training that will be undertaken each year. This approach helps to ensure that the necessary skills are available at all times in an industry with a mandate to carry out operations that are critical to the Country.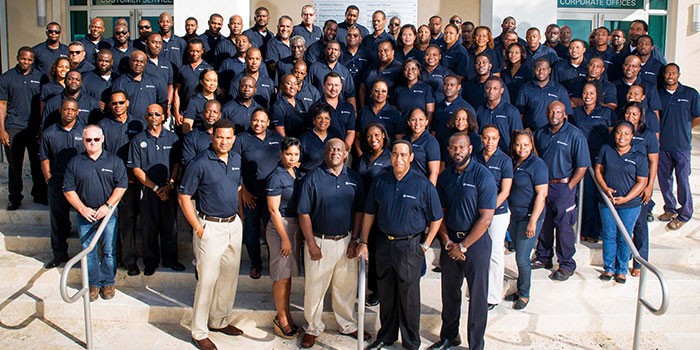 In early 2015, FortisTCI successfully met all requirements for the National Center for Construction Education and Research (NCCER) accreditation standard and criteria. The Company now serves as one of only eight Accredited Training Sponsor (ATS) sites within the region. This five (5) year step program for mechanics and engineers is one of several initiatives implemented to broaden the technical skill set available within the organization.
The Company has also launched a program for plant operators through the American Society for Power Engineers (ASOPE). The ASOPE Program requires participants to complete four levels of certifications including third, second, and first class engineer, and chief engineer; to date, the first of the four levels has been completed. Both NCCER and ASOPE are internationally recognized, and participants undergo practical and theoretical learning sessions. Other certified technical training courses administered at FortisTCI include a two year customized Meter Technician Program and a four (4) year, four (4) level Linemen Apprenticeship Program.
The Company has also created opportunities specifically for Turks and Caicos Islanders to obtain university level education through its bonded scholarship programs. To date,FortisTCI has served as the primary benefactor of four university bachelor degrees and one MBA with an additional bachelor degree in progress and an MBA that is set to finish in 2015. The FortisTCI Student Internship Program (SIP), Student Summer Employment Program (SSEP) and Student Apprenticeship Program are all geared toward providing exposure to local high school and college students. Through these programs, students can experience the day-to-day operations of an electric utility company and FortisTCI can identify potential candidates for future scholarship awards. The Company considers itself an "employer of choice" in the Turks and Caicos Islands, and has one of the highest percentages of locally employed personnel with 86% of its staff being Turks and Caicos Islanders. Leadership and on the job training programs have also been established to develop employees that possess potential leadership capabilities. Since January 2015, a total of 4,164 training hours has been recorded by employees.

FortisTCI President and CEO Eddinton Powell said, "Utilities are among the fastest changing business segments in the world. Smart technologies are revolutionizing our industry, while customers' demands and expectations are changing. In a fast paced performance-based organization, our employees must be on the cutting edge of innovation, experts in their fields, and multi-skilled workers. Investing in and developing our people is a part of our mission because it is vital to the level of service FortisTCI can provide to the Turks and Caicos Islands. Our employees are our greatest assets."
Notes to Editors:
1) FortisTCI Limited (FTCI) became a wholly owned subsidiary of Fortis Inc. located in Newfoundland, Canada in August 2006. Turks and Caicos Utility Limited (TCU), which is the sole provider of electricity on the Islands of Grand Turk and Salt Cay, was acquired by FTCI in August 2012. FTCI is the sole provider of electricity in Providenciales, North Caicos, Middle Caicos, East Caicos and adjacent Cays, and South Caicos. Together the two companies serve more than 13,000 electricity customers in the Turks & Caicos Islands. The Utilities have an aggregate diesel-fired generating capacity of approximately 76.42 megawatts. Additional information on FortisTCI can be accessed at
www.fortistci.com
.
2) Fortis Inc. is a leader in the North American electric and gas utility business, with total assets of approximately $28 billion and fiscal 2014 revenue of $5.4 billion. Its regulated utilities account for approximately 93% of total assets and serve more than 3 million customers across Canada and in the United States and the Caribbean. Fortis owns non-regulated hydroelectric generation assets in Canada, Belize and Upstate New York. The Corporation's non-utility investment is comprised of hotels and commercial real estate in Canada. For more information, visit www.fortisinc.com or www.sedar.com
CONTACT:
Allan Robinson
VP, Customer & Corporate Services
FortisTCI Ltd
Tel: 649-946-4313 Ext. 2507
Email: arobinson@fortistci.com