Providenciales, Turks and Caicos Islands (Wednesday, August 30, 2017) – FortisTCI (the Company) has officially opened a new multipurpose building that brings its engineering and operational functions under one roof at its Leeward Highway headquarters.
The grand opening and ribbon-cutting ceremony took place on Wednesday, August 30, and was attended by representatives of FortisTCI's parent company, Fortis Inc., with President and CEO Barry Perry bringing greetings on behalf of the company. Mr. Perry also joined members of the business community at a 'Stakeholders' Luncheon' on the same day, had breakfast with approximately 60 FortisTCI staff members and met with members of the Executive and Senior management teams of the Company.
Other executives from Fortis Inc. who visited for the opening were Gary Smith, Executive Vice President of Eastern Canadian and Caribbean Operations; David Bennett, Executive Vice President, Chief Legal Officer and Corporate Secretary and Karen McCarthy, Director of Communications and Corporate Affairs.
A broad cross-section of representatives from the local business community was also present, and along with media, toured the building following the opening ceremony.
Officially named the 'FortisTCI Operations and Engineering Center', the three-storey 20,220-sq.ft. building will house the Company's Engineering, Environmental Health and Safety and Site Services departments, the Transmission and Distribution and Energy Production administration offices and a new Systems Control Room.
The new Systems Control Room features the latest supervisory control and data acquisition (SCADA) platform, and state-of-the-art, consoles, displays and equipment all designed to improve efficiencies throughout the Company's transmission and distribution systems and meet future growth over the medium to long term.
Fortis TCI President and CEO Eddinton Powell noted that the new building provides much needed facilities for the Company's support services and control systems. "Available, reliable and affordable energy is fundamental to the continued growth and development of the Turks and Caicos Islands' economy. Over the next five years, the local economy is projected to grow annually at about 3%. This facility integrates new innovative technologies and infrastructure to ensure that the Company can meet the growing energy needs of the Country."
Mr Powell added, "It is especially pleasing to officially open this building that has been designed to support our customer-focused mission of greater operational efficiencies, delivered via trained and engaged employees utilizing the latest technologies."
The FortisTCI Operations and Engineering Center on Providenciales is a $ 10.795 million project constructed over a 20-month period. The building was designed by architect John Redmond of John Redmond Associates Ltd. and built by Projectech Construction Management & Services Ltd. Leading the project at FortisTCI was Devon Cox, Senior Vice President of Operations with support from Alvejes Desir, Manager, Plant Control and Caltricia Hamilton-Evans, Engineering Assistant.
The newly opened building is one of two major construction projects that FortisTCI is undertaking this year. A new multipurpose building consisting of offices for technical staff, a warehouse and workshop is currently under construction on the island of Grand Turk, and is expected to be completed by October 2017.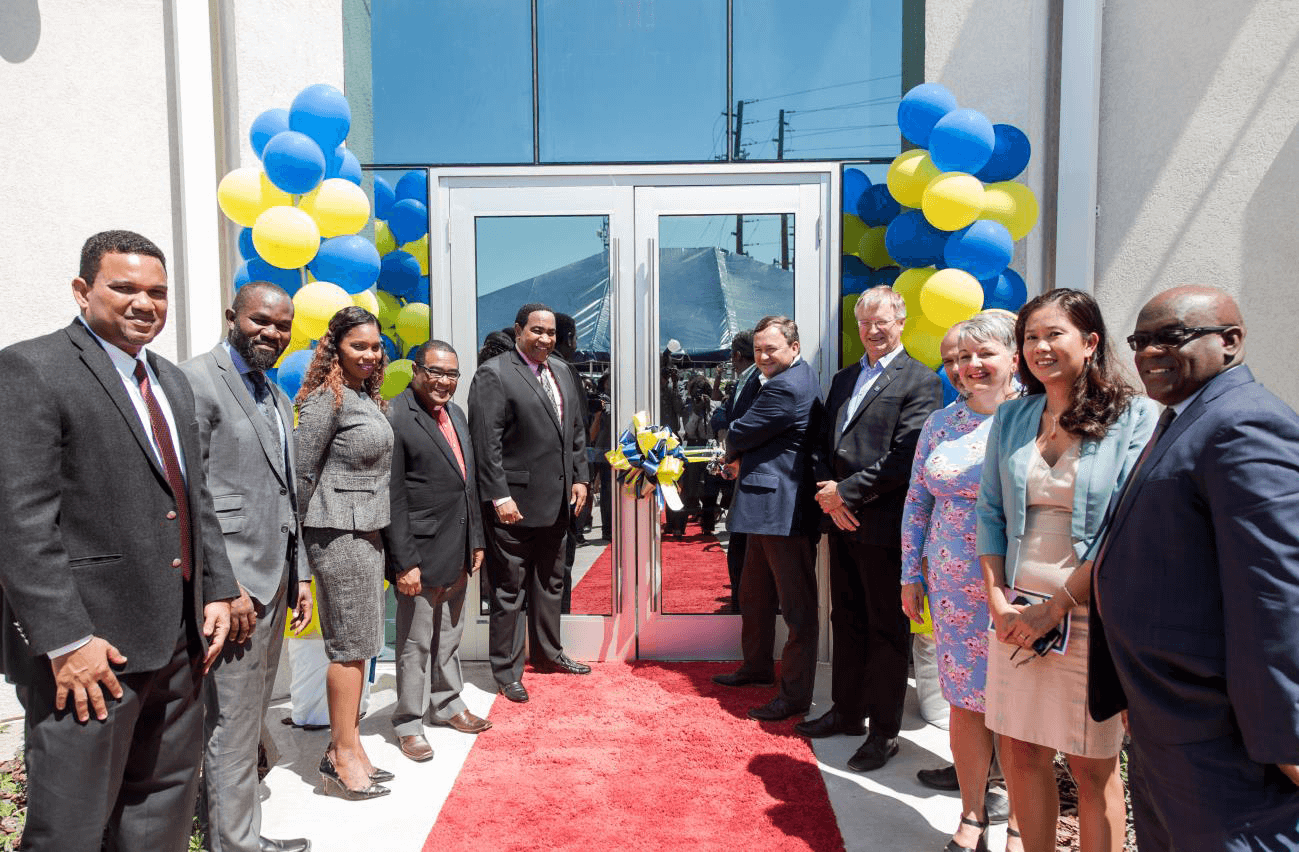 FortisTCI President and CEO Eddinton Powell and Fortis Inc. President and CEO Barry Perry (center) officially open the new FortisTCI Operations and Engineering Center at the Company's Leeward Highway headquarters on Wednesday, August 30.
Notes to Editors:
FortisTCI Limited (FTCI) is the sole provider of electricity on Providenciales, North Caicos, Middle Caicos, South Caicos, East Caicos and adjacent Cays. In August 2012, Turks and Caicos Utility Limited (TCU),which is the sole provider of electricity on the Islands of Grand Turk and Salt Cay, was acquired by TCI. Together the two companies serve almost 15,000 electricity customers in the Turks & Caicos Islands archipelago. FTCI and TCU have an aggregate diesel-fired generating capacity of approximately 82 megawatts. For further information visit www.fortistci.com
FortisTCI is a subsidiary of Fortis Inc., a leader in the North American regulated electric and gas utility industry. For further information visit www.fortisinc.com.
CONTACT:
Talisha Simons
Director of Corporate Communications & Public Affairs
FortisTCI Ltd
Tel: 649-946-4313 Ext. 2519
Email: tsimons@fortistci.com