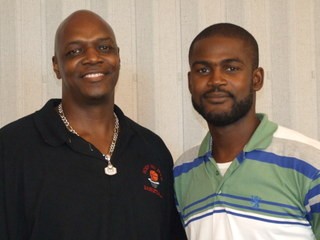 Young aspiring basketball players from across the islands raced to the Gustarvus Lightbourne Sports Complex on September 9 and 10 to take part in Hoop Phi Hoop's inaugural basketball training and recruitment exercise in Providenciales.
Hoop Phi Hoop, a basketball organisation founded by basketballer Jay Lee, is committed to the physical, mental, and social development of young people. Hoop Phi Hoop strives to provide skills that build character and self-confidence to increase a player's chance of excelling to the next basketball level. More importantly, Hoop Phi Hoop focuses on building life skills that gives players a leading edge when faced with personal experiences and future challenges.
"We are excited to welcome players from the Turks and Caicos to the Hoop Phi Hoop Basketball Organisation. We are looking forward to celebrating many outstanding opportunities as we strive to build individual character, team concepts and exceptional basketball skills," stated Hoop Phi Hoop's Jay Lee.
Mr. Lee added, "I feel that this is a great thing we can do for basketball players and young children. We would like to try to get things going as soon as possible so that we can make this a reality. The youth are TCI's future and we cannot let anything stand in their way. I pledge to do whatever I can do to take them to the next level."
Allan Robinson, VP of Customer and Corporate Services, noted that, "FortisTCI has always been the biggest advocate of Youth development, Education and Sports in the Turks and Caicos and will continue to be strong supporters. Our very own basketball star Mervin Forbes was very instrumental in getting the programme started in the TCI and his involvement makes us even more excited to be a part of this initiative. We are truly looking forward to seeing TCI's young athletes develop their talents to the fullest, while living out their dreams."
In the near future, Hoop Phi Hoop will be hosting basketball tournaments, formulating basketball leagues, sponsoring camps, and will continue its training sessions with young athletes from across the islands. All of these initiatives work together to create the ideal basketball recruit; a star athlete in the eyes of international basketball coaches. For more information about Hoop Phi Hoop, please visit www.hoopphihoop.org.