Forecasting shows a huge drop in fuel factor - up to 80% by October.
Providenciales, Turks and Caicos Islands (Tuesday, June 11, 2020) – Over the next four months, FortisTCI is projecting that electricity consumers will see significant reductions in their energy costs by way of a declining fuel factor. Looking ahead, customers can expect the fuel factor to fall on average by approximately 80% in October, bringing added economic relief to homes and businesses across the Turks and Caicos
Customers will see a decline in the fuel factor on their June electricity bills. However, the company's forecast models indicate that the most significant decreases will start in July with an approximate 52% reduction in the fuel factor compared to January 2020. July's decline is followed by a 68% drop in August, a 73% drop in September, before reaching an 80% decline in October, compared to January 2020's fuel factor.
The decline in energy costs comes as a result of the near historic drop in world market fuel prices this past March and April. While the fuel supply chain presents a lag in effective prices, FortisTCI passes these reductions to customers as quickly as possible. The projected decrease in fuel cost will result in an overall reduction of electricity bills. Over the period at its highest impact, the company anticipates that residential customers will see their electricity bills reduced on average by approximately 23% to 27%. Commercial customers can expect, on average, an estimated 20% reduction in bills, medium hotels and supermarkets, on average, will see an estimated 23% reduction and large hotels, an approximately 26% reduction on their electricity bills when compared to January 2020.
FortisTCI President & CEO Eddinton Powell said, "The company has closely monitored the decline in global fuel prices and is glad to see the reduction in cost from our fuel supplier that can now be passed on to our customers. The reduction in the cost of energy and the fuel factor will have a positive impact and provide further economic stimulus to our customers. While this means a reduction in electricity bills, customers must continue to manage their electricity consumption, especially as some continue to spend more time at home due to the pandemic, and as we enter the warmer summer months."
The information provided is a projection, and fuel prices may differ at the time of purchase as global crude and diesel commodity markets remain very volatile. For more information on the fuel factor, click here.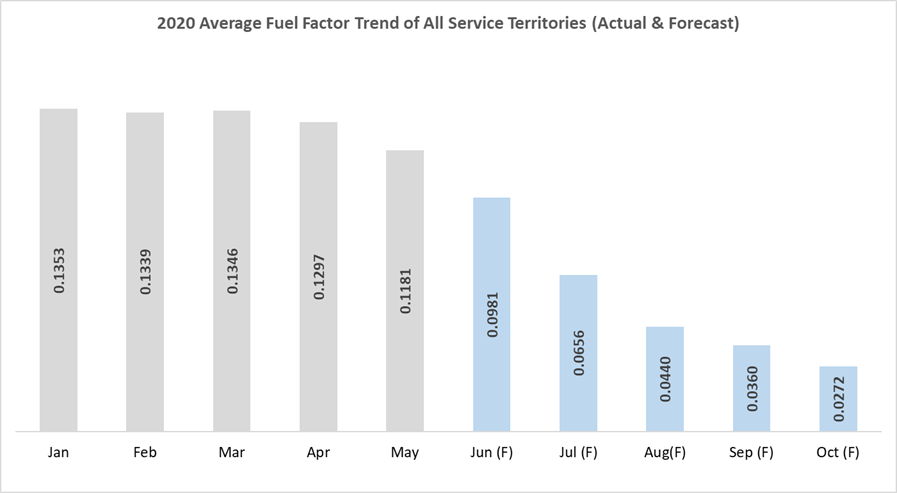 Caption: FortisTCI is passing fuel saving to its customers as quickly as possible. In October, it is projected customers will see a reduction in the fuel factor of up to 80% due to the drop in world market prices. This will provide further economic relief to homes and businesses.
Notes to Editors:
About FortisTCI
FortisTCI Limited (FTCI) is the public electricity supplier in Turks and Caicos, serving the islands of Providenciales, North Caicos, Middle Caicos, South Caicos, East Caicos, and the adjacent Cays. Turks and Caicos Utility Limited (TCU), purchased by FortisTCI in August 2012, delivers electricity on the Islands of Grand Turk and Salt Cay. Together, the two companies have more than 15,000 customers, an aggregate diesel-fired generating capacity of approximately 90.7 megawatts, and 1MW of grid-tied rooftop distributed solar PV. For further information visit www.fortistci.com.
FortisTCI is a subsidiary of Fortis Inc., a leader in the North American regulated electric and gas utility industry. For further information visit www.fortisinc.com.
Forward-looking Information
Certain information set forth in this release, may contain "forward-looking information", including "future oriented financial and non-financial information", collectively referred to herein as forward-looking statements. Forward looking statements include statements that are predictive in nature, and depend upon future events or conditions, which include, but without limitation, the projected drop in fuel factor between June and October 2020, and anticipated decreases in bills for residential, commercial, supermarkets, medium and large hotels. Forward looking statements are based on underlying assumptions and management's beliefs, estimates and opinions, and are subject to inherent risks and uncertainties surrounding future expectations that may vary from forecasts and estimates. Readers are cautioned that these statements do not guarantee future performance and undue reliance should not be placed on them. The Company disclaims any intention or obligation to update forward-looking statements if circumstances or management's estimates or opinions should change except as required by applicable laws.