Providenciales, Turks and Caicos Islands (Tuesday, October 17, 2017) FortisTCI (the Company) continues to make significant progress in restoring electricity across Turks and Caicos. To date, electricity service has been restored to more than 10,000 customers across all service territories.
On North and Middle Caicos the progress has been rapid, with service restored to 100% of the customers that can take electricity. A few customers whose homes received extensive damages are unable to be connected at this time. Also, the underwater cable between Providenciales and North Caicos was successfully re-energized. This transmission cable from Heaving Down Rock on Providenciales delivers electricity to the inlets and cays between Providenciales and North Caicos, and onward through to Lorimers, Middle Caicos. The Company's success on North and Middle Caicos is credited to the joint efforts of the North and Middle Caicos local based personnel and the emergency Fortis crews from Caribbean Utilities Company (CUC) in Grand Cayman and UNS Energy in Tucson, Arizona, USA.
Progress is also being made on other Islands. On South Caicos, it is expected that service will be available to all customers that can be connected by the end of this week. On Providenciales, over 80% of customers have electricity available to them and service is expected to be restored to all customers by the first week of November.
Restoration efforts on Grand Turk have faced unique challenges including a lack of available accommodations for emergency workers, and the complete lack of communications in the nation's capital in the days immediately following Hurricane Irma. In addition, the extent of the damage to the electricity grid on Grand Turk was over 90% and approximately 60 kilometers of transmission, distribution, and service lines have to be rebuilt. Despite these challenges, the Company has restored power to almost 500 customers to date. The initial focus was to restore power to key and essential services like the airport and control tower, the FAA facility, the water plant, and hospital.
More than 40 utility workers are currently assigned to help rebuild and restore the system on Grand Turk, and these workers will be joined shortly by additional manpower. As such, progress on Grand Turk is expected to increase over the next couple of weeks. The below restoration plan (subject to change) details continued restoration dates on Grand Turk.
Estimated Schedule of Restoration on Grand Turk
| | |
| --- | --- |
| Location | Estimated Date of Restoration |
| Sections of Pond Street | October 18 |
| Breezy Brae | October 25 |
| Waterloo Road (From Power Plant to Governor's Beach) | October 27 |
| South School Lane | October 27 |
| East Suburbs | October 27 |
| Sections of Palm Grove | October 27 |
| Sections of Hospital Road | October 27 |
| Pillory Beach | October 27 |
| Sections of Back Salina | November 3 |
| Front Street | November 3 |
| Church Folly | November 3 |
| Sections of Osbourne Road | November 3 |
| Over Back | November 10 |
| Lighthouse Road (From Clock Tower to TCICC) | November 16 |
| Cork Tree Beach | November 23 |
| Cork Tree Beach | November 23 |
Each schedule accounts for the restoration of service to approximately 75% of customers in all areas. The other 25% of customers may have additional damages to their service equipment that will need further investigation.
FortisTCI President & CEO Eddinton Powell said, "Considering the scale of the devastation caused by Hurricanes Irma and Maria, it is a great accomplishment to have restored electricity to more than 70% of the country in less than six weeks. A lot of work has been done, but we will not relent in our efforts to restore power to every single customer as quickly as possible. We know how important electricity is to our customers and to the overall economy and we are applying all available resources to this effort."
The process of restoring electricity begins with getting power to essential services such as hospitals, water plants, and airports. Then crews work on repairing and restoring main power lines that will restore electricity to large groups of customers. Then the focus moves to restoring smaller service lines that feed particular streets and cul-de-sacs from the main power lines. Finally, crews address individual customers with damages or disruptions affecting their particular service.
As restoration of electricity service continues across the TCI, the Company reminds customers to turn off breakers, unplug appliances and equipment and turn off wall switches. Customers are also encouraged to consult a licensed electrician before undertaking any electrical repairs.
Customers with properties that may have been damaged or had their electrical systems compromised will need to make all necessary repairs and have an inspection completed by the Government Planning Department. They will then need to provide FortisTCI with written approval from the Planning Department stating that service can be connected.
Customers still experiencing an interruption in areas where service has been fully restored, and all necessary checks have been completed with an electrician, are asked to contact the FortisTCI customer call center to report the outage. The call center can be reached by dialing 946-4313 and is open Monday through Friday from 8:30 am – 5 pm.
FortisTCI wishes to thank customers and the public for their patience during this period. For further information, please visit us only at www.fortistci.com, or follow us on Facebook.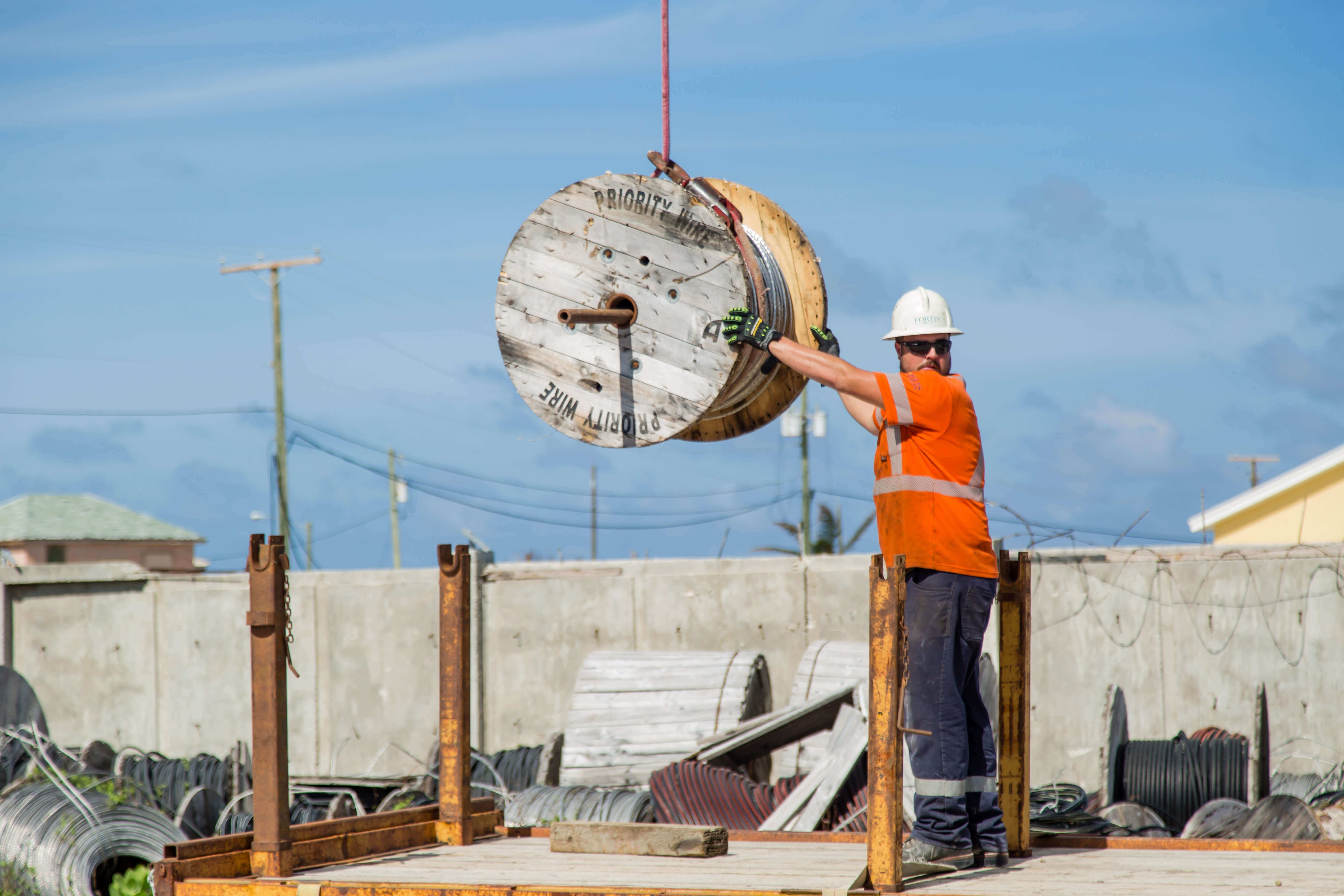 Photo Caption: A Fortis utility employee is seen gathering electrical wire on Grand Turk, used to rebuild the transmission and distribution network.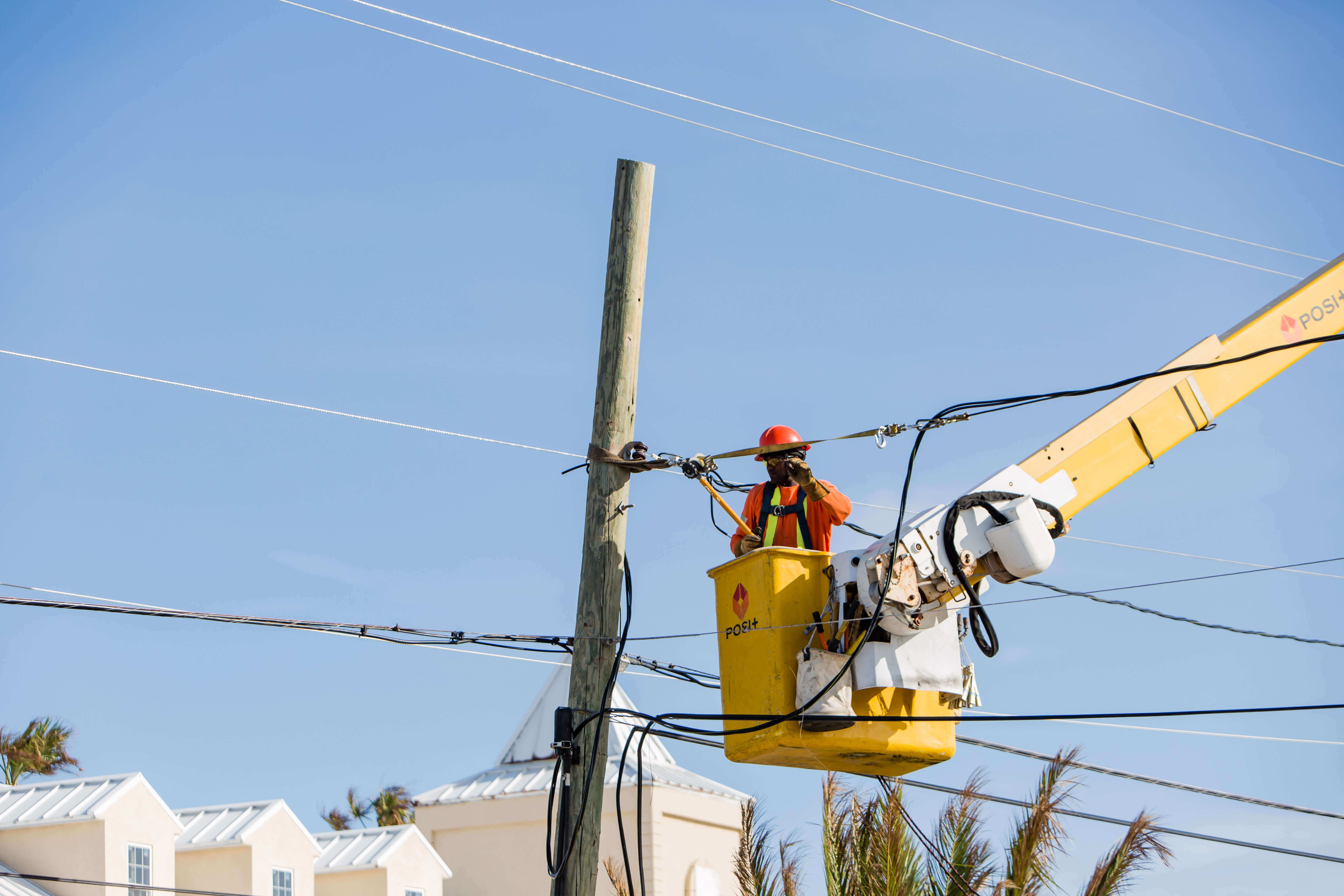 Photo Caption: A FortisTCI lineman helping to restore service to customers on Grand Turk.
Notes to Editors:
1) FortisTCI Limited (FTCI) is the sole provider of electricity on Providenciales, North Caicos, Middle Caicos, South Caicos, East Caicos and adjacent Cays. In August 2012, Turks and Caicos Utility Limited (TCU), which is the sole provider of electricity on the Islands of Grand Turk and Salt Cay, was acquired by FTCI. Together the two companies serve almost 15,000 electricity customers in the Turks & Caicos Islands archipelago. FTCI and TCU have an aggregate diesel-fired generating capacity of approximately 82 megawatts. For further information visit www.fortistci.com
2) FortisTCI is a subsidiary of Fortis Inc., a leader in the North American regulated electric and gas utility industry. For further information visit www.fortisinc.com.
CONTACT:
Talisha Simons
Director of Corporate Communications & Public Affairs
FortisTCI Ltd
Tel: 649-946-4313 Ext. 2519
Email: tsimons@fortistci.com