Governor Beckingham was greeted and accompanied by FortisTCI President and CEO, Eddinton Powell and together they toured numerous sites at the Leeward Highway compound. Site visits included the 1.1 million gallon ground water retention pond, one of the two 8.7 MW Wartsila engines installed in 2011, the control room, the new mechanical workshop commissioned in 2013, the fuel tank farm and the bulk storage area. Governor Beckingham said, "I was impressed with the professionalism and commitment of all of the FortisTCI employees that I met. Reliable electricity is crucial to this country's continued economic development."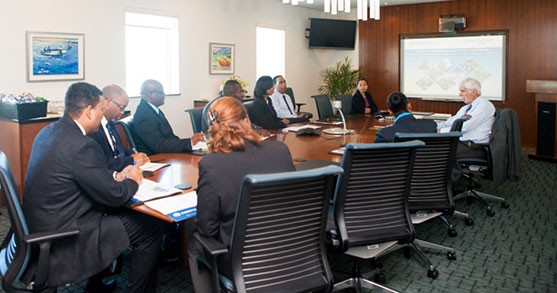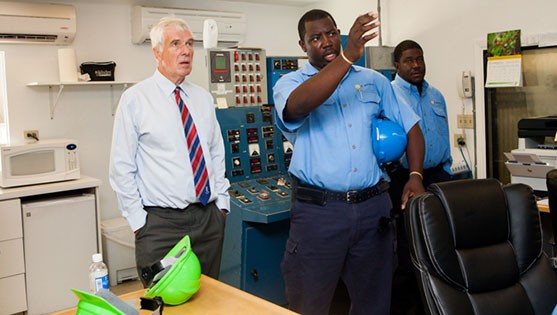 Following the plant facilities tour, the Governor also met with members of the FortisTCI Executive Team where he was offered more information about the Company's day to day operations, future plans and upcoming projects. CEO Eddinton Powell said, "This important visit by Governor Beckingham allowed us to showcase the complexities that come with operating a small utility in the Caribbean while also highlighting our many accomplishments since 2006. We believe the Governor now has a clearer understanding of the business environment in which we operate."
FortisTCI has held similar meetings and tours for various Government representatives, business officials, and focus groups and will continue its outreach and education programs. As the Company partners with all stakeholders, anyone interested in visiting or learning more about FortisTCI is encouraged to email corpcomm@fortisTCI.com or visit us online at www.fortistci.com for details on group information sessions.
Notes to Editors:
1) FortisTCI Limited (FTCI) became a wholly owned subsidiary of Fortis Inc. located in Newfoundland, Canada in August 2006. Turks and Caicos Utility Limited (TCU), which is the sole provider of electricity on the Islands of Grand Turk and Salt Cay, was acquired by FTCI in August 2012. FTIC is the sole provider of electricity in Providenciales, North Caicos, Middle Caicos, East Caicos and adjacent Cays, and South Caicos. Together the two companies serve approximately 12,800 electricity customers in the Turks & Caicos Islands. The Utilities have an aggregate diesel-fired generating capacity of approximately 75 megawatts. Additional information on FortisTCI can be accessed at www.fortistci.com.
2) Fortis Inc. is the largest investor-owned gas and electric distribution utility in Canada. Its regulated utilities account for 90 per cent of total assets and serve more than 2.4 million customers across Canada and in New York State and the Caribbean. Fortis owns non-regulated hydroelectric generation assets in Canada, Belize and Upstate New York. The Corporation's non-utility investments are comprised of hotels and commercial real estate in Canada and petroleum supply operations in the Mid-Atlantic Region of the United States. Fortis Inc. shares are listed on the Toronto Stock Exchange and trade under the symbol FTS. Additional information can be accessed at www.fortisinc.com or www.sedar.com.
CONTACT:
Allan Robinson
VP, Customer & Corporate Services
FortisTCI Ltd
Tel: 649-946-4313 Ext. 2507
Email: arobinson@fortistci.com