"We are thankful for this opportunity to start our very own fruit and vegetable garden. It is something that has been talked about among our teaching staff and students for a while. With this jumpstart we can now look forward to sharing some of the wonderful vegetables that we will grow in our garden," said Mrs. Gwen Harvey, Ona Glinton Primary School Principal.

Ms. Garneau and Ms. Gollshewshy, current residents of Grand Turk who are knowledgeable and experienced in the area of growing vegetable gardens, spoke with a group of almost 40 students about the various types of seeds they were preparing to plant. They highlighted what it takes for seeds to grow and why caring for your garden is essential to harvesting good crops. "When starting a garden at home, you should start small, make sure you have the right soil, and don't forget to water and give them enough sunlight. The best part of growing vegetables is that they're fresh, and you get to share them with your friends and family," said Ms. Garneau. The students also learned about new ways they can use recycled materials to grow their crops.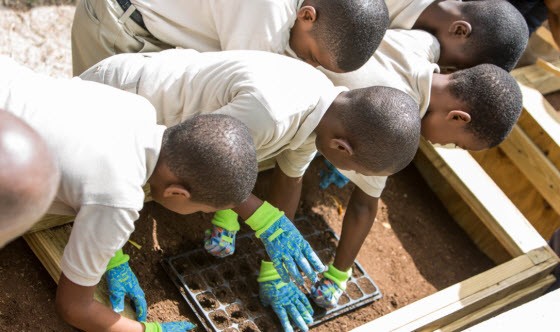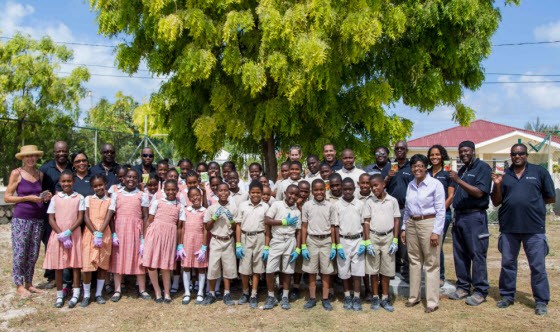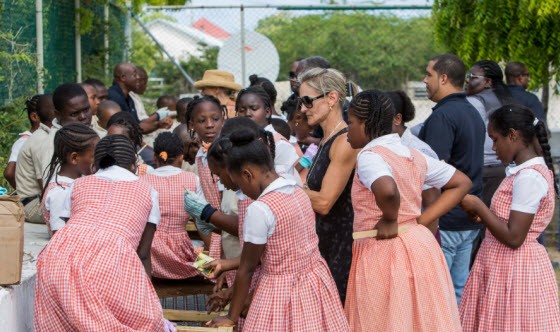 FortisTCI has pledged to assist Ona Glinton with the establishment of the school's garden, donating gardening necessities and by partnering with local landscaping and nursery representatives for the success of the project. An area on the school grounds has been designated for the development of the garden, and as the seedlings begin to sprout students will transfer them to proper planting pots as a part of their learning experience. Some of the plants and vegetables the students hope to see sprout over the next several weeks include tomatoes, sweet peppers, green beans, basil, and more.

Earth Day was first celebrated 45 years ago and is recognized all across the globe. The mission of the Earth Day Network is "to broaden, diversify and mobilize the environmental movement through a variety of education, public policy, and activism campaigns."

FortisTCI believes in celebrating Earth Day every day and remains committed to being environmentally responsible. The Company continues to implement new earth-friendly measures and help reduce its environmental footprint by utilizing state-of-the art technologies, lubricant recycling, lowering carbon emissions and much more. The Company wishes to thank Nature Green Nursery TCI: Landscaping & Maintenance, Joan Garneau, Jenny Gollshewshy, Ona Glinton Primary School and the FortisTCI Grand Turk staff, for an adventure filled Earth Day 2015.
Notes to Editors:
1) FortisTCI Limited (FTCI) became a wholly owned subsidiary of Fortis Inc. located in Newfoundland, Canada in August 2006. Turks and Caicos Utility Limited (TCU), which is the sole provider of electricity on the Islands of Grand Turk and Salt Cay, was acquired by FTCI in August 2012. FTCI is the sole provider of electricity in Providenciales, North Caicos, Middle Caicos, East Caicos and adjacent Cays, and South Caicos. Together the two companies serve more than 13,000 electricity customers in the Turks & Caicos Islands. The Utilities have an aggregate diesel-fired generating capacity of approximately 75 megawatts. Additional information on FortisTCI can be accessed at www.fortistci.com.
2) Fortis is a leader in the North American electric and gas utility business, with total assets of more than $26 billion and fiscal 2014 revenue of $5.4 billion. Its regulated utilities account for approximately 93% of total assets and serve more than 3 million customers across Canada and in the United States and the Caribbean. Fortis owns non-regulated hydroelectric generation assets in Canada, Belize and Upstate New York. The Corporation's non-utility investment is comprised of hotels and commercial real estate in Canada. For more information, visit www.fortisinc.com or www.sedar.com
CONTACT:
Allan Robinson
VP, Customer & Corporate Services
FortisTCI Ltd
Tel: 649-946-4313 Ext. 2507
Email: arobinson@fortistci.com