Providenciales, Turks and Caicos Islands (Wednesday, December 9, 2020) – FortisTCI's frontline workers from across several departments, and seven local construction companies that are regularly contracted by the company, were honoured with the Green Ribbon Awards for outstanding safety performance in 2020.
The presentations were made at the company's Green Ribbon Safety Awards Ceremony, held at FortisTCI's Providenciales headquarters on Friday, December 4. The event also recognized four employees with 'Good Catch' awards for their vigilance in identifying, reporting and offering solutions for potential hazards that could have a moderate to major impact on people and systems.
Receiving the Green Ribbon Safety Award were FortisTCI's employees in the Transmission and Distribution (substation, planners, engineers), Production and Control Operations, Facilities Management, Materials Management and Security departments, as well as the Grand Turk and Sister Islands Operations teams.
Contractors who were awarded were J&A Welding, Rolle Construction, Kevin's Quality Cleaning, EL Construction, Ferguson and Son, 4M Construction and Stanch Construction.
'Good Catch' awards were presented to Supervisor of Materials Management Ingrid Forbes, Senior T&D Planner Robert Smith and Linemen Kelorian Forbes and Atley Gray.
FortisTCI established the Green Ribbon Safety Awards Program in 2016. The initiative recognizes those working for the company who understand the importance of good safety practices and who are actively providing solutions to health and safety concerns in the workplace. Contractors were added to the roll of awardees for the first time in 2019.
This year's awards were particularly significant, with the company achieving 655 days (and counting) without a lost time accident, despite employees and contractors having to work under several new EHS protocols in light of the COVID-19 pandemic.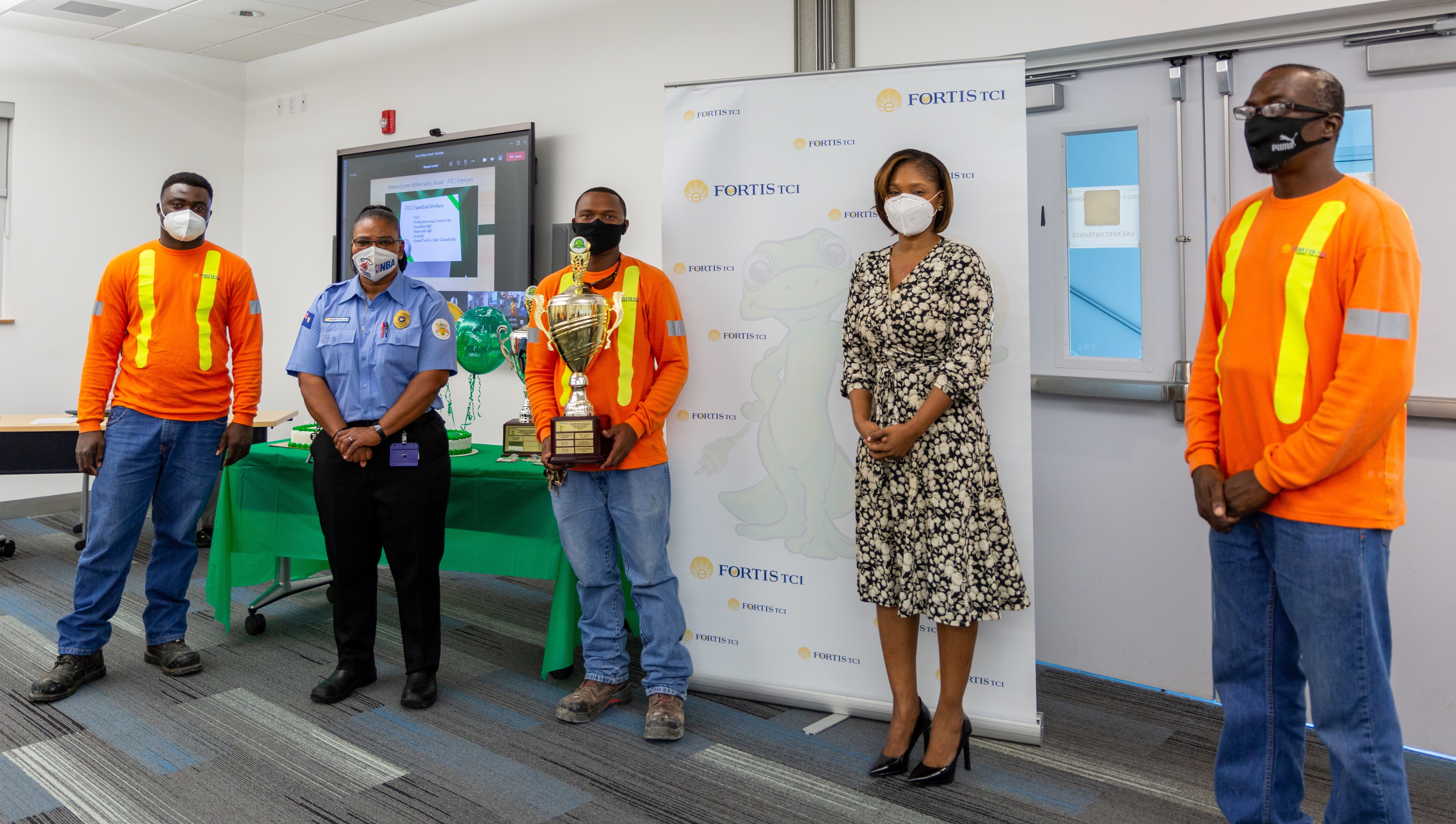 FortisTCI President and CEO Ruth Forbes presented the Green Ribbon Safety Award to representatives
of the company's frontline staff and congratulated them on an exceptional year of safe work practices and adherence to the company's environmental, health and safety management systems, despite the COVID-19 pandemic.
Pictured, from left are: Laborer Ivan Hall, Shift Leader – Security Guard Ladonna Bassett, Supervisor of Lines Gregory Thomas, and Electrical Technician Maurice Francis.
"As an essential service provider operating during the COVID-19 pandemic, it was important for us to not only manage the usual risks associated with the utility industry, but also to safeguard the health and safety of our employees and contractors, while ensuring the company was always COVID-free. This approach was vital to keeping the lights on for our customers, and I am proud of the work that was done all across the company to achieve this goal. Many of our employees were sequestered at our various locations for extended periods, and many others were on the frontlines, as and when required. Everyone played their part in helping us to successfully manage the pandemic, effectively implement our Return to Office Plan, and welcome customers back to the office," FortisTCI President and CEO Ruth Forbes stated.
In congratulating the awardees, she added, "Safety is a top priority at FortisTCI and it is due to the steadfast commitment of all employees and our contractors that we keep breaking new ground in our environmental, health and safety management systems. I commend all the winners on this special achievement."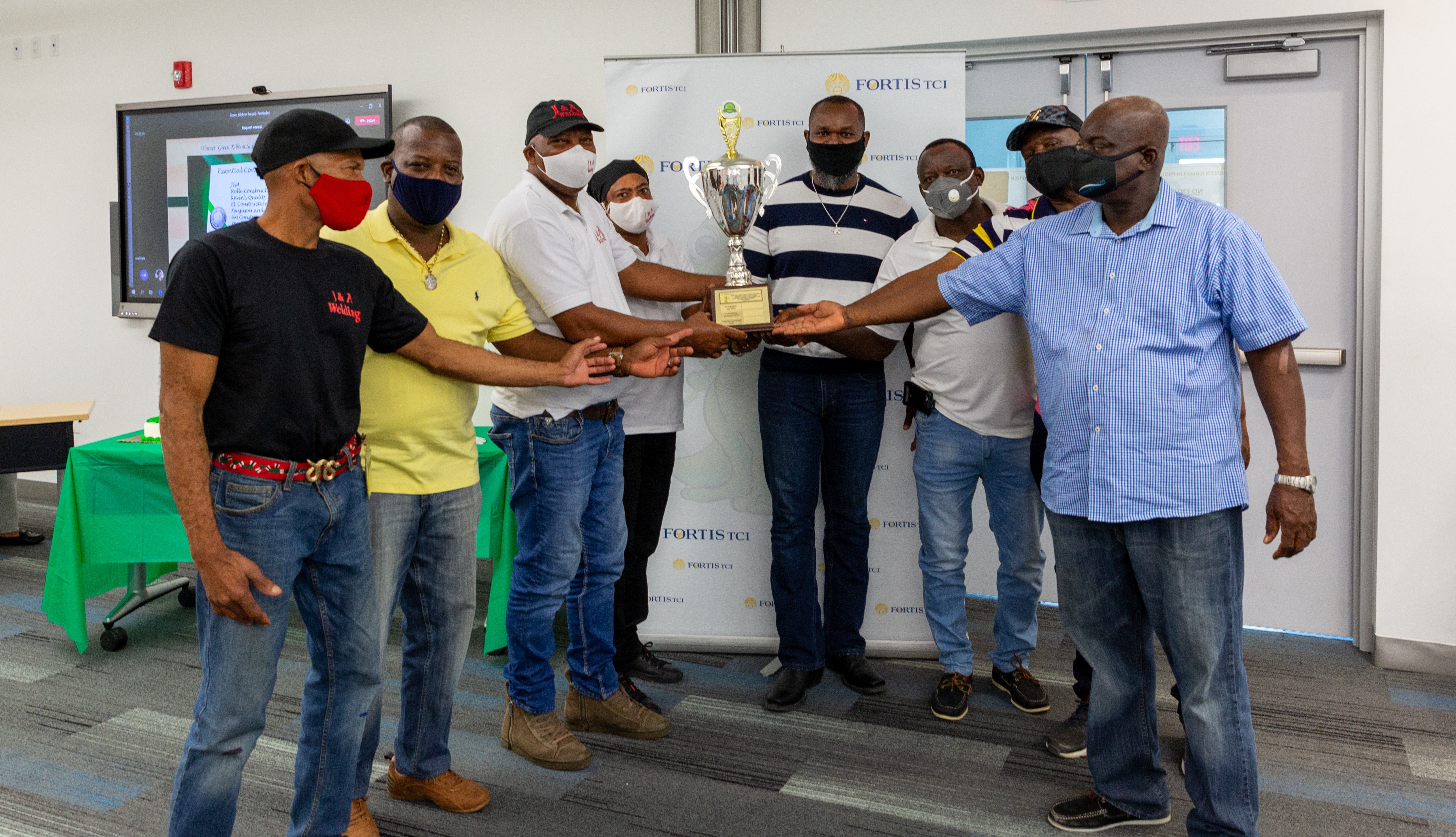 FortisTCI Senior Vice President of Operations Devon Cox (center) presented the Green Ribbon Safety Award to representatives of seven local construction companies, in recognition of their commitment to safe work practices at FortisTCI's premises during 2020.
Mrs. Forbes also congratulated the EHS team for its "incredible safety leadership inside this company, and outside – to our contractors, to the TCI community and across the region to the CARILEC family."
Under the direction of Senior Vice President of Operations Devon Cox, the team comprises Director of EHS and Line Operations Dave Laing, EHS Manager Marcus Francis, Senior EHS Coordinator Eustace Musgrove, Works Methods Specialist Walter Wilson, Senior EHS Officer Rikardia Pardo and Temporary EHS Officer Ariel Clare.
Contact:
Talisha Simons
Senior Director of Corporate Communications & Public Affairs
FortisTCI Ltd
Tel: 649-946-4313 Ext. 2519
Email: tsimons@fortistci.com